From 3 Days of Rest with Breakfasts in the Family Hotel «Lian» in the Carpathians
Volosyanka (Transcarpathian region), 440A
Lian (Volosyanka)
2 users reviews
Deal description
With a certificate, you will receive at least 3 days of rest for two, four or five with breakfasts at the Lian family hotel in the Carpathians at a discount.
Show all options (12)
What is included in the price of the certificate?
Accommodation for two, four or five in a room of the selected category.
Breakfasts for everyone.
Use of the parking lot.
Wi-Fi.
Additionally paid
NECESSARILY
An additional 1% tourist tax is paid locally.
OPTIONAL
Sauna visit - 250 UAH per hour.
Additional accommodation: accommodation for children under 5 years old - free of charge without extra bed.
Extra bed for children of any age and adults - UAH 150 per day.
How to use a certificate?
BOOKING SERVICE:
Before buying a certificate, pre-book the dates of arrival and the room you are interested in by arranging booking request
Booking service:
+38 (080) 033-68-15
+38 (044) 334-79-47
+38 (099) 300-26-54
+38 (067) 556-73-09
+38 (063) 466-83-74
Working hours: 9:00-21:00, seven days a week.
You have 24 hours to pay for the certificate on the Pokupon website.
After purchasing the certificate, you must confirm the booking and send the certificate code to the booking service book@pokupon.ua
Available dates:
from 05.01.2022 to 10.03.2022
The price includes payment for information services provided by Покупон on the basis of the Public Offer.
IMPORTANT CONDITIONS
Services are provided as usual.
Before purchasing a certificate, pre-book the arrival date and room you are interested in.
After purchasing the certificate, confirm your reservation by phone and send your full name and certificate number by e-mail without the last digit.
Name the last digit of the certificate (activation code) only at the time of check-in. After activation, the service is considered to be provided, and the certificate cannot be returned.
ADDITIONAL TERMS
It is possible to combine certificates (it is necessary to summarize the nights).
Upon check-in, you must present a certificate in electronic form.
In the event of an early termination of the holiday at the request of the guests, the funds for the unused day will not be refunded.
The certificate can be returned if you canceled the reservation by phone specified in the promotion, no later than 5 days before the date of arrival.
Contacts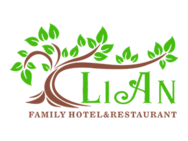 Phones:
+38 (080) 033-68-15
+38 (044) 334-79-47
+38 (099) 300-26-54
+38 (067) 556-73-09
+38 (063) 466-83-74
Family hotel «Lian» is located in the Carpathians on the banks of a mountain river. The rooms offer incredible mountain views. It offers parking, shuttle service and Wi-Fi. In winter, the hotel offers equipment rental and skiing, and in summer you can go cycling in the scenic surroundings. In the evenings it will be nice to relax in the sauna.
The restaurant serves a variety of Carpathian cuisine for every taste. Rooms are equipped with comfortable beds, TVs and private bathrooms.
Good to know:
Check-in - 14:00
Check out - 11:00
Pets are not allowed
The staff speaks Ukrainian, Russian, English and Czech
In a hotel:
Terrace
Sauna
Massage room
24-hour front desk
Wi-Fi
Parking
Transfer
Ski equipment rental
Bicycle rental
Laundry
Things to do?
Skiing
Cycling
Rest at nature
Hiking
Excursions
Fishing
Food and drinks:
A restaurant
Bar
coffee house
Diet menu
Delivery of food and drinks to the room
Brazier
Distance to:
The nearest ski lift Uzhok - 300 m
River Uzh - 100 m
Mountains Opolonok - 1 km
Skole - 50 km
Uzhgorod - 58 km
Ivano-Frankivsk - 186 km
Lviv - 164 km
Kiev - 672 km
Hotel rooms «Lian»
Two-room loft
Quadruple
Double with double bed with mountain view
Double with two single beds with mountain view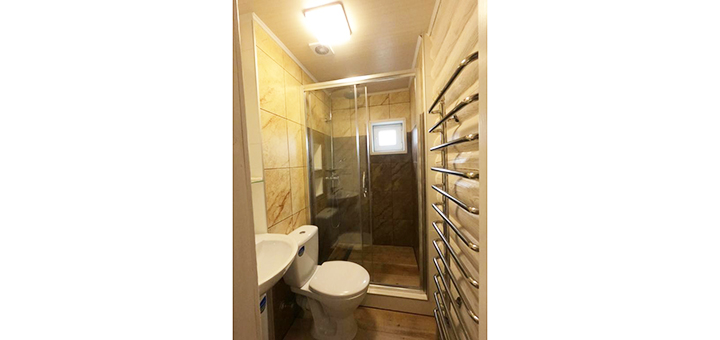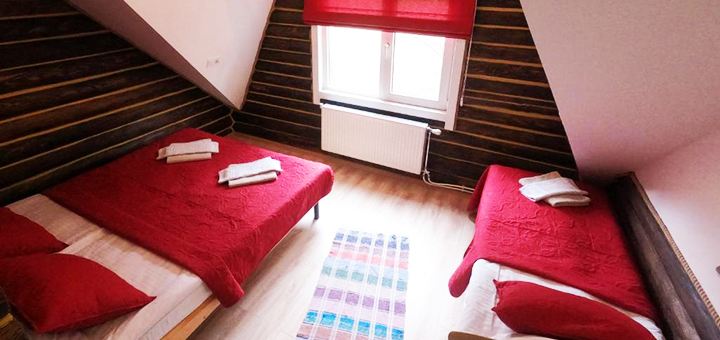 Room size: 35 sq.
In the room:
Two rooms
King size bed
Three single beds
Sofa
Television
Hanger
Electric kettle
Washer
Bathroom: shower, toilet, toiletries, slippers, hairdryer
Volosyanka (Transcarpathian region), 440A
Questions
Address:
Volosyanka (Transcarpathian region), 440A
у Вас есть комплексные обеды и ужины? какая стоимость? или питание по меню ресторана? скажите что входит в завтрак у Вас?
16.01.22 10:59
Здравствуйте, Мария. По данному вопросу рекомендуем обращаться напрямую к Партнеру по тел 0685906150. Благодарим за обращение.
Address:
Volosyanka (Transcarpathian region), 440A
Где можно посмотреть фото лофт 2-х комнатный ?
24.12.21 11:45
Доброго дня! Вам необхідно зайти на наш сайт через повну версію сайту (крмп"ютер, ноутбук, планшет), низу, в розділі номера готелю «Lian», є фото номерів. Дякуємо за звернення.
Address:
Volosyanka (Transcarpathian region), 440A
Сколько до ближайшего подьемника ?
24.12.21 10:40
Здравствуйте, Вика. До ближайшего горнолыжного подъемника Ужок 300 м. Спасибо за вопрос.
From₴1 259
Available dates:
05.01.2022 - 10.03.2022
sale-25%
Saving₴2 250
Bought 3
Choose from