Sorry, but deal is over
Subscribe for notifications, so we can send you new offers from "What's up".
You can also view other discounts and deals "What's up"
Want to receive new offers by email from the "What's up"?
Enter your email so you don't miss anything
A course for beginner teachers from the creators of What's Up, MBA degree courses
Kharkiv, Sumskaya street, 1
What's up7 users reviews
Deal description
With the certificate, you get an offline or online course for aspiring teachers from the creators of What's Up, MBA degree courses at «What's Up» at a discount.
Service description
Are you just getting started or want to start teaching English? Not sure where to find students? Is it better to work on your own or take courses? How to get students interested? Do not know? «What's Up» will help you!
What is included in the price of the certificate?
Beginner Teacher Course
How to make lessons interesting for every student.
How to do the best practices once for each level.
How to communicate with students, how to get them interested.
How to communicate with the parents of students.
Where to find students.
How to work so that you are advised to others.
Course program
Day 1
Introduction. Teacher work. Program of work with students of different levels. Drawing up the main program once and for a long time.
Day 2
How not to get lost in the lesson if the student turned out to be of a different level. How to come up with interesting tasks. Additional materials.
Day 3
Features of working with children. Specificity. Children's exams.
Day 4
Practicing interesting lessons in practice.
Day 5
Features of working with adults. Specificity. Exams for adults (general).
Day 6
Exams for adults are more detailed (IELTS, TOEFL, FCE, PET).
Day 7
Practicing interesting lessons in practice.
Day 8
How to communicate with students, their parents. The ability to teach yourself, sell your classes, put a high price tag.
Day 9
Compiling a teacher profile. The basics of a teacher's personal brand (according to MBA).
Day 10
Where to find students. What is the best way to work for yourself or at school?
Advantages and disadvantages.
How to use a certificate?
You can use the certificate from 08.10.2021 to 08.01.2022
The price includes payment for information services provided by Покупон on the basis of the Public Offer.
IMPORTANT CONDITIONS
Services are provided as usual.
Services are not provided in the period from 29.12 to 08.01.2022.
Before purchasing a certificate, be sure to check the availability of seats for the desired date and time.
ADDITIONAL CONDITIONS
Discounts on certificates are not cumulative with other promotional offers.
To receive a discount, you must submit a certificate in electronic form.
Give the last digit of the certificate (activation code) only when you receive the service. After activation, the service is considered to be provided, and the certificate cannot be returned.
Specify the schedule of the course by phones indicated in the contacts.
It is possible to take a course online on the platform: Zoom, Skype, Viber.
Duration of the course: 10 lessons of 1.5-2 hours.
After completing the course, you will receive a certificate.
Contacts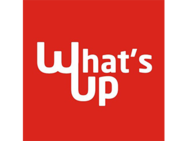 Phones:+38 (067) 753-91-53 +38 (057) 754-73-70+38 (099) 342-01-42
English courses "What's Up" in Kharkov invite those who have long dreamed of learning this foreign language, speaking fluently with friends, at work or school, traveling, to move abroad or develop a child. Competent teachers and native speakers guarantee a fascinating educational process, the absence of boring lessons and cramming, written literacy and free speech.
Who is in the Sloboda district of Kharkov will appreciate the convenient location of the What's Up school, as well as flexible discounts and small groups. Lessons with children are held with the latest technology with games, teaching cartoons and creativity.
Service
Groups up to 4 people.
Programs from 4 years.
Flexible system of discounts.
м. Istorychnyi Muzei, Kharkiv, Sumskaya street, 1
Questions
1 Photo
Address: Kharkiv, Sumskaya street, 1 - nearest underground station Istorychnyi Muzei
обучение это важное занятие для всех, Вить только так мы развиваемся приятное приобретение со скидкой
1 Feedback
Address: Kharkiv, Sumskaya street, 1 - nearest underground station Istorychnyi Muzei
Высокое качество подготовки преподавателей. Всем советую
Address: Kharkiv, Sumskaya street, 1 - nearest underground station Istorychnyi Muzei
Deal is completed
sale-66%
Saving₴3 001
Buy First