Sorry, but deal is over
Subscribe for notifications, so we can send you new offers from "Corsairs Strikeball Club".
You can also view other discounts and deals "Corsairs Strikeball Club"
Want to receive new offers by email from the "Corsairs Strikeball Club"?
Enter your email so you don't miss anything
Team airsoft game for the company from «Corsairs Strikeball Club»
Petropavlovskaya Borschagovka (Kiev region)
Corsairs Strikeball Club2 users reviews
Deal description
With the certificate you get a team airsoft game for 4, 6, 8 or 10 people from the airsoft club from the «Corsairs Strikeball Club» at a discount.
What is included in the price of the certificate?
Game fee.
Drive (automatic).
Balls (2000 pcs).
Face protection.
Additionally paid
OPTIONAL
Drive - 250 UAH.
Points - 50 UAH.
Mask - 50 UAH.
Form - 100 UAH.
Unloading - 70 UAH.
Gloves - 30 UAH.
Protection (knees, elbows) - 70 UAH.
Balls (2000 pcs) - 200 UAH.
Grants - 20 UAH/piece.
How to use a certificate?
You can use the certificate from 03.10.2021 to 31.10.2021
The price includes payment for information services provided by Покупон on the basis of the Public Offer.
Please note that depending on the quarantine measures in the region, the partner may ask a visitor to provide a complete vaccination course COVID certificate, a digital certificate about negative coronavirus test result taken no later than 72 hours before the visit, or about recovery for the last 6 months (ask the partner about possible restrictions before purchasing a certificate). The requirements are valid for persons over 18 years old.
IMPORTANT CONDITIONS
Services are provided as usual.
Before purchasing a certificate, be sure to check the availability of seats for the desired date and time.
ADDITIONAL TERMS
Discounts on certificates are not cumulative with other promotional offers.
To receive a discount, you must submit a certificate in electronic form.
Give the last digit of the certificate (activation code) only when you receive the service. After activation, the service is considered to be provided, and the certificate cannot be returned.
The duration of the game is 2 hours.
Contacts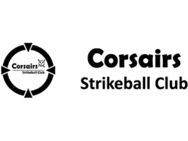 Phones:+38 (063) 367-30-19
Airsoft is a dynamic RPG game in which you will feel like a special forces soldier or a computer shooter hero! In airsoft, soft airsoft pneumatics are used, completely copying real weapons. The Corsairs Strikeball Club hosts regular airsoft games every weekend. At the moment, the club has been visited by several thousand players. Take part in this action game, experience new emotions, get a sea of drive!
From₴1 299
Deal is completed
sale-53%
Saving₴3 501
Buy First