Sorry, but deal is over
Subscribe for notifications, so we can send you new offers from "Nail bosses".
You can also view other discounts and deals "Nail bosses"
Want to receive new offers by email from the "Nail bosses"?
Enter your email so you don't miss anything
Manicure and pedicure with gel polish in the studio «Nail Bosses»
Kiev, Fedor Ernst street, 16A
Nail bosses1 user review
Deal description
With the certificate you get a classic, combined or hardware manicure or pedicure with a gel polish coating of your choice at the «Nail Bosses» studio at a discount.
How to use a certificate?
You can use the certificate from 17.09.2021 to 07.11.2021
The price includes payment for information services provided by Покупон on the basis of the Public Offer.
IMPORTANT CONDITIONS
Services are provided as usual.
One client can personally use only one certificate.
The offer is valid only for women.
Before purchasing a certificate, be sure to check the availability of seats for the desired date and time.
ADDITIONAL TERMS
Discounts on certificates are not cumulative with other promotional offers.
To receive a discount, you must submit a certificate in electronic form.
Give the last digit of the certificate (activation code) only when you receive the service. After activation, the service is considered to be provided, and the certificate cannot be returned.
If you signed up for the procedure, but did not come at the specified time and did not warn you about the cancellation of the visit 24 hours in advance, and also arrived more than 10 minutes late, the administration reserves the right to refuse to provide services with a discount and the session is considered passed.
During the procedure, varnishes from «Gloss» and «Kamilfo» are used.
Sterilization of instruments: instruments undergo three-level processing (disinfectant liquid, pre-sterilization cleaning, dry heat). The tool is stored in craft bags.
Contacts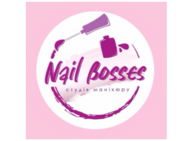 Phones:+38 (099) 614-53-44+38 (095) 291-89-66
«Nail Bosses» is a manicure studio in Kiev. Salon masters offer such services: manicure and manicure complexes, pedicure, make-up, eyebrow modeling. Among the varieties of manicure: hardware, classic, combined. The studio regularly offers its clients pleasant discounts on procedures.
м. Vokzalna, Kiev, Fedor Ernst street, 16A
From₴119
Deal is completed
sale-60%
Saving₴801
Bought 11