Visit to the quest room «Granny Granny» from the network of quest rooms «quest.od.ua»
Odessa, Cathedral Square, 4
quest.od.ua
36 users reviews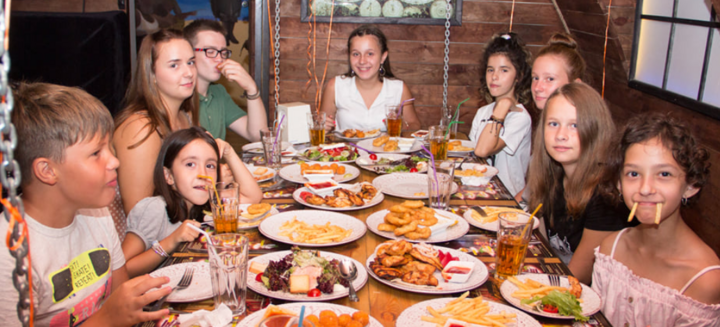 Deal description
With the certificate you get a visit to the «Granny Granny» quest room on weekdays from the «quest.od.ua» quest-room network with a discount.
Service description
The «Granny Granny» quest in Odessa is the best youth way of a great pastime for a person of any age, as well as a good way to enjoy the time spent.
In real life, the quest «Granny Granny» can be easily attended by both a child and a teenager with their parents. This is a modern entertainment that will open up new emotions and sensations. The quest will help you find new adventures. Moreover, the price is reasonable.
Quest for teenagers «Granny Granny» will help you to celebrate your birthday or any other holiday in a fun way. You can go to it with your parents, friends, classmates. Horror quest for children will give a lot of joy and positive emotions. If you live in Odessa, then at any time you can come and take part in an exciting quest full of adventures, unsolved mysteries and unfulfilled tasks. This is a great way to take a break from school and have fun.
Show all options (1)
Additionally paid
IF NECESSARY
For each additional player (over 4 people) - UAH 200.
Participation in the antiquest after 21:30 - 200 UAH.
Children's scary quest from 8 to 18 years old (the level of fear is adjustable according to the age of the players).
How to use a certificate?
You can use the certificate from 06.09.2021 to 07.03.2022
The price includes payment for information services provided by Покупон on the basis of the Public Offer.
Please note that depending on the quarantine measures in the region, the partner may ask a visitor to provide a complete vaccination course COVID certificate, a digital certificate about negative coronavirus test result taken no later than 72 hours before the visit, or about recovery for the last 6 months (ask the partner about possible restrictions before purchasing a certificate). The requirements are valid for persons over 18 years old.
IMPORTANT CONDITIONS
Services are provided as usual.
You can book the game only through the site quest.od.ua or by phone numbers indicated in the contacts.
The promotion is valid only on weekdays.
The allowed age of participants is from 8 years old.
One certificate is valid for a company of up to 4 people.
Before purchasing a certificate, be sure to check the availability of seats for the desired date and time.
When signing up for a quest, provide the certificate code to the administrator without the last digit.
ADDITIONAL CONDITIONS
One customer can personally purchase an unlimited number of certificates.
Discounts on certificates are not cumulative with other promotional offers.
To receive a discount, you must submit a certificate in electronic form.
Give the last digit of the certificate (activation code) only when you receive the service. After activation, the service is considered to be provided, and the certificate cannot be returned.
If you signed up for the game, but did not come and did not warn about the cancellation of the visit at least 12 hours before the start of the game or were late for more than 15 minutes, the service is considered to be provided.
Contacts

Phones:
+38 (073) 336-17-70
Quests from "quest.od.ua" are incredible, new experiences and adventures. Scary and terrifying, like "Five Nights at Freddy's" or dipping into childhood, like "Hide and Seek in the Dark." Believe me, among the variety of quests you are sure to find your own!
In "quest.od.ua" the quest can be combined with a party or a birthday celebration.
Questions
Address:
Odessa, Cathedral Square, 4
максимально сколько человек заходит?
21.12.21 17:57
Здравствуйте, Ирина. Максимальное количество 8 человек. Для 4-х человек нужно купить сертификат, за каждого следующего игрока оплата 200 грн. Спасибо за вопрос.
Address:
Odessa, Cathedral Square, 4
Добрый вечер, продолжительность квеста?
21.12.21 17:54
Здравствуйте, Ирина. Продолжительность квеста 1 час. Спасибо за вопрос.
Address:
Odessa, Cathedral Square, 4
здравствуйте, подскажите, в комментах написано, сертификат на 4 человека,, за каждого следующего доплата 150 грн. Одноклассники 13-14 лет , группа 12- 14 человек, сможем на таких условиях посетить Вас?
17.12.21 10:23
Здравствуйте, Ирина. Да, можно. Вам необходимо приобрести один сертификат, за каждого дополнительного игрока (свыше 4 человек) доплата - 200 грн. Для данного количества участников партнер рекомендует обратить внимание на квест-комнату "Прятки в темноте" - https://pokupon.ua/ru/deals/item/681539-uchastie-v-antikveste-pryatki-v-temnote-ot-seti-kvest-komnat-quest-od-ua Благодарим за Ваш вопрос.
Address:
Odessa, Cathedral Square, 4
Сегодня были на квесте Бабушка Гренни, хочу поделиться впечатлениями😊Очень и очень нам всё понравилось) от инструктажа до мини фотосессии))) квест прикольный и поначалу страшноватый, но актёр просто молодец и всё сделал так, что страх превратился в азарт) спасибо ему за это🙌обязательно прийдем снова) говорят, Игра в Кальмара классный квест) уже собираем команду Р.S: играли дети 12 лет и взрослый

12.11.21 09:03
Здравствуйте, Алина. Благодарим Вас за отзыв. Мы очень рады, что наши предложения полезны для Вас. Будем стараться и дальше радовать новинками нашего сайта.
Address:
Odessa, Cathedral Square, 4
Всем рекомендуем посетить квест Бабушка Гренни! Море положительных впечатлений! Актеры очень убедительно играют, голос и внешний вид Гренни до мурашек правдоподобен, хорошо подстраиваются под возрастную категорию. Интересная локация, интересные задания. Были с дочками 11 и 8 лет, им было интересно, в меру страшно и жутко весело) По времени квест прошли за час. Очень приветливый и общительный обслуживающий персонал. Отдельное спасибо Покупону за отличную скидку, хорошая экономия)
19.07.21 10:15
Здравствуйте, Татьяна. Благодарим Вас за отзыв. Мы очень рады, что наши предложения полезны для Вас. Будем стараться и дальше радовать новинками нашего сайта.
From₴600
You can use the certificate:
06.09.2021 - 07.03.2022
sale-40%
Saving₴400
Bought 65
Choose from