From 4 days of rest with three meals a day and treatment in the sanatorium «Eagle's Nest»
Vinogradov (Transcarpathian region), Vinnichki tract, 35
Orlyne Gnizdo (Vinogradov)
168 users reviews
Deal description
With the certificate, you will receive at least 4 days of rest and recovery for two with three meals a day in the «Eagle's Nest» sanatorium in the Transcarpathian region at a discount.
Show all options (44)
What is included in the price of the certificate?
Accommodation for two in a room of the selected category.
Three meals a day: breakfast, lunch and dinner for two daily.
5 medical procedures (prescribed after a doctor's examination).
Indoor pool use daily for two.
Treatment with mud from Lake Sivash (mud applications - a method of partial application of mud to different areas of the body) of one zone to choose from: gloves, socks, face, back, lower back, abdomen, lower limbs, joints (daily for two).
Evminov's board (daily for two).
Use of the gym (daily for two).
Additionally paid
OPTIONAL
Additional accommodation: accommodation for children under 5 years old inclusive - free (without providing an extra bed).
Extra bed in a room on a folding bed for a child under 12 years old - 150 UAH per night.
Extra bed for adults and children over 12 years old is not provided.
Excursions, hikes and trips by off-road vehicles or ATVs to the mountains, picking mushrooms and berries, badminton.
Underwater massage (hydromassage).
Charcot shower.
Inhalation.
Colon hydrotherapy.
Pressotherapy.
Stone therapy.
Tourist rafting on the Tisza.
Skiing.
Visit to the two-zone indoor pool
Hiking and cycling in the mountains.
Access to 2 outdoor summer pools.
Fishing.
Leisure evenings, discos, concerts.
EXCURSION PROGRAMS
The ancient city over Uzh.
Castles of Transcarpathia.
Mineral springs of Transcarpathia.
Synevyr.
Valley of the daffodils.
Roses of Transcarpathia.
Isa.
Swiss cheese dairy.
Thermal springs.
How to use a certificate?
BOOKING SERVICE:
Before buying a certificate, pre-book the dates of arrival and the room you are interested in by arranging booking request
Booking service:
+38 (080) 033-68-15
+38 (044) 334-79-47
+38 (099) 300-26-54
+38 (067) 556-73-09
+38 (063) 466-83-74
Working hours: 9:00-21:00, seven days a week.
You have 24 hours to pay for the certificate on the Pokupon website.
After purchasing the certificate, you must confirm the booking and send the certificate code to the booking service book@pokupon.ua
Available dates:
from 08.01.2022 to 28.02.2022
The price includes payment for information services provided by Покупон on the basis of the Public Offer.
IMPORTANT CONDITIONS
Before purchasing a certificate, pre-book the arrival date and room you are interested in.
Services are provided as usual.
After purchasing the certificate, confirm your reservation by phone and send your full name and certificate number by e-mail without the last digit.
Name the last digit of the certificate (activation code) only at the time of check-in. After activation, the service is considered to be provided and is non-refundable.
ADDITIONAL TERMS
It is possible to combine certificates. In this case, it is necessary to summarize the nights.
Upon check-in, you need to present a certificate in electronic form.
In case of early check-out at the request of the guest, the funds for the unused day will not be refunded.
The certificate can be returned if you canceled the reservation by phone specified in the promotion, no later than 5 days before the date of arrival.
Contacts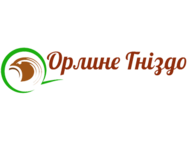 Phones:
+38 (080) 033-68-15
+38 (044) 334-79-47
+38 (099) 300-26-54
+38 (067) 556-73-09
+38 (063) 466-83-74
The «Orlyne Gnizdo» sanatorium is located near the town of Mukachevo in the picturesque Vinnichka gorge on the banks of the Tisa River. The complex has a wellness center, indoor and outdoor pools, terraces and recreation areas. Guests live in comfortable rooms, standard, junior suite and suite. All rooms are equipped with the necessary appliances, amenities and new furniture. There are 27 rooms in the hotel, 20 of them are double rooms and 7 are triple rooms.
The sanatorium offers vacationers a wide range of medical and health procedures, including mud therapy with healing Sivash mud, Evminov's board, Charcot's shower, underwater massage, colon hydrotherapy, pressotherapy, stone therapy, inhalations and much more. All procedures are prescribed after consulting a doctor.
There is an indoor pool and gym on site, and discos and concerts are organized in the evenings. From the sanatorium you can go on excursions to Uzhgorod, Mukachevo, see the magical castles of Transcarpathia, visit a cheese factory and the Valley of Narcissus, Lake Synevyr and mineral springs, arrange rafting down the Tisza or go to the mountains.
Things to do?
Skiing
Fishing
A river with a beach
Excursions, hikes and trips by off-road vehicles or ATVs in the mountains
Picking mushrooms and berries
Badminton
Underwater massage (hydromassage)
Charcot shower
Inhalation
Colon hydrotherapy
Pressotherapy
Stone therapy
Tourist rafting on the Tisza
Indoor two-zone pool
Hiking and cycling in the mountains
2 outdoor summer pools
Fishing
Relax evenings, discos, concerts
Distance to:
Chornaya Gora restaurant - 290 m
Nearest ski lift - 27 km
Mukachevo - 55 km
Uzhgorod - 120 km
Kiev - 820 km
Good to know:
Check-in - 14:00
Check out - 12:00
Early check-in and late check-out are possible upon prior agreement with the administration
In the hotel:
Parking
Wi-Fi on site
Conference hall
The park
Terrace
Playground
Tour agency
Food and drinks:
A restaurant
Bar
Complex nutrition
Rooms of the boarding house «Orlyne Gnizdo»
Deluxe suite
Suite
Junior suite
Standard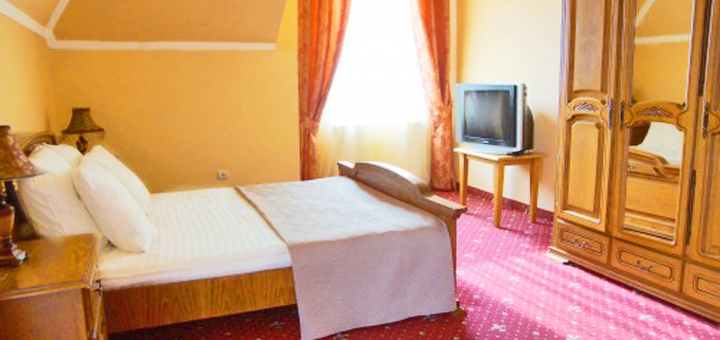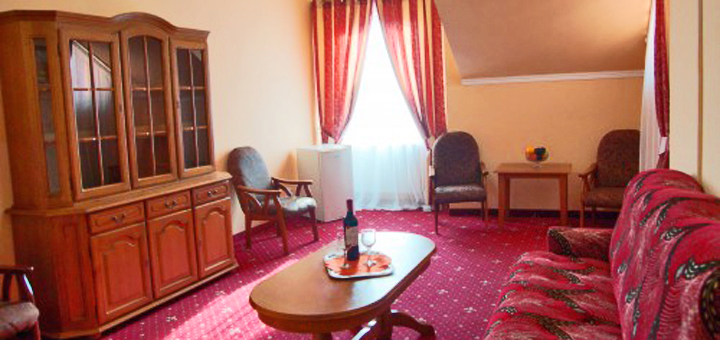 In the room:
2 rooms: bedroom, living room
Double or twin beds
Exit to the balcony
Sofa
Armchairs
TV with stand-alone satellite TV
Air conditioning-climate control
Cupboard
Refrigerator
Bathroom: shower, toilet, washbasin
Vinogradov (Transcarpathian region), Vinnichki tract, 35
Questions
Address:
Vinogradov (Transcarpathian region), Vinnichki tract, 35
Отдыхали в 2017 году. Все понравилось: питание, процедуры, отношение персонала. Хотелось бы еще попасть туда😗😗😗
From₴5 496
Available dates:
08.01.2022 - 28.02.2022
sale-25%
Saving₴9 165
Bought 3
Choose from