Sorry, but deal is over
Subscribe for notifications, so we can send you new offers from "Alpiyskiy (Yablunytsya)".
You can also view other discounts and deals "Alpiyskiy (Yablunytsya)"
Want to receive new offers by email from the "Alpiyskiy (Yablunytsya)"?
Enter your email so you don't miss anything
From 3 days of rest in the hotel «Alpiyskiy» in Yablunytsya near Bukovel
Yablunytsya (Ivano-Frankivsk region), Dil tract, 280D
Alpiyskiy (Yablunytsya)549 users reviews
Deal description
With a certificate, you will receive at least 3 days of rest for two or four in rooms of different categories at the «Alpiyskiy» hotel in Yablunytsya near Bukovel with a discount.
What is included in the price of the certificate?
Accommodation for two or four in a room of the selected category.
A visit to the sauna with a contrast pool - 2 hours (one-time).
Use of a gazebo and barbecue (firewood is paid).
Use of the playground.
Use of the parking lot under video surveillance.
Wi-Fi.
Additionally paid
NECESSARILY
A tourist tax of 1% is paid additionally on site.
OPTIONAL
Breakfast for two - 140 UAH.
Firewood - 80 UAH
Additional accommodation: accommodation for children under 12 years old - free of charge without extra bed.
Providing a baby cot - 50 UAH/day.
An extra bed for children under 12 years old is free (only in a suite).
Extra bed for children from 12 years old and adults - 150 UAH/day.
How to use a certificate?
BOOKING SERVICE:
Before buying a certificate, pre-book the dates of arrival and the room you are interested in by arranging booking request
Booking service:
+38 (080) 033-68-15
+38 (044) 334-79-47
+38 (099) 300-26-54
+38 (067) 556-73-09
+38 (063) 466-83-74
Working hours: 9:00-21:00, seven days a week.
You have 24 hours to pay for the certificate on the Pokupon website.
After purchasing the certificate, you must confirm the booking and send the certificate code to the booking service book@pokupon.ua
Available dates:
from 16.08.2021 to 31.10.2021
The price includes payment for information services provided by Покупон on the basis of the Public Offer.
IMPORTANT CONDITIONS
Services are provided as usual.
Before purchasing a certificate, pre-book the arrival date and room you are interested in.
After purchasing the certificate, confirm your reservation by phone and send your full name and certificate number without the last digit to your e-mail.
Name the last digit of the certificate (activation code) only at the time of check-in. After activation, the service is considered to be provided, and the certificate cannot be returned.
ADDITIONAL CONDITIONS
It is possible to combine certificates. In this case, it is necessary to summarize the nights.
Upon check-in, you must present a certificate in electronic form.
In case of early termination of the holiday at the request of the guests, the funds for the unused day will not be refunded.
The certificate can be returned if you canceled the reservation by phone specified in the promotion, no later than 5 days before the date of arrival.
Contacts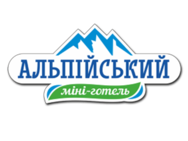 Phones:+38 (080) 033-68-15+38 (044) 334-79-47+38 (099) 300-26-54+38 (067) 556-73-09+38 (063) 466-83-74
Mini-hotel «Alpiyskiy» is located in the village of Yablunytsya among the mountains. The hotel has a playground, gazebos and barbecues, a parking lot. In the winter season, tourists most often devote their free daytime to skiing on snow-covered mountain trails. Depending on your skills and abilities, you can choose the most comfortable track for yourself.
At any time of the year, you can go hiking, horseback riding or simply taking a walk in the picturesque surroundings. And the healing and health-improving Carpathian sauna will help to regain the strength lost during travels.
Ski slopes are equipped on the mountains that surround the village of Yablunytsya. There are 5 pair-drag lifts on the slopes. Trails of red and blue difficulty levels. The slopes are gentle, no humps are formed. There are cafes on the slopes (barbecue, side dishes, citrus fruits, tea, coffee).
Distance to:
The nearest ski lift in Yablunytsya - 100 m
Ski lift - Bukovel Lift 1R - 6 km
Rivers - 500 m
Cafe - 100 m
Ivano-Frankivsk - 91 km
Lviv - 234 km
Kiev - 635 km
In the hotel:
Sauna with a contrast pool
Altanka and barbecue (firewood paid)
Playground
Parking under video surveillance
Wi-Fi
Good to know:
Check-in - 14:00
Check out - 11:00
Pets are not allowed
The staff speaks Ukrainian, Russian and English
Rooms of the hotel «Alpiyskiy»
Attic
Double with balcony
Two-room suite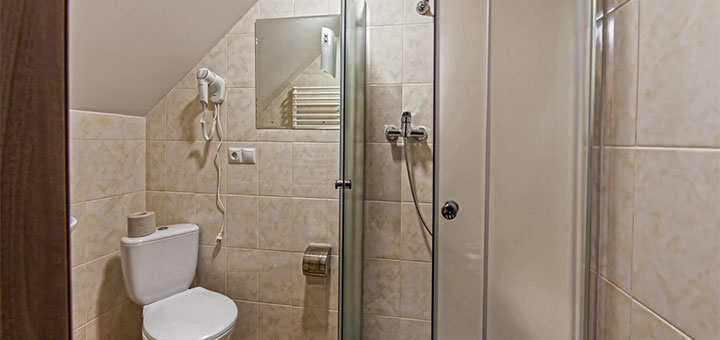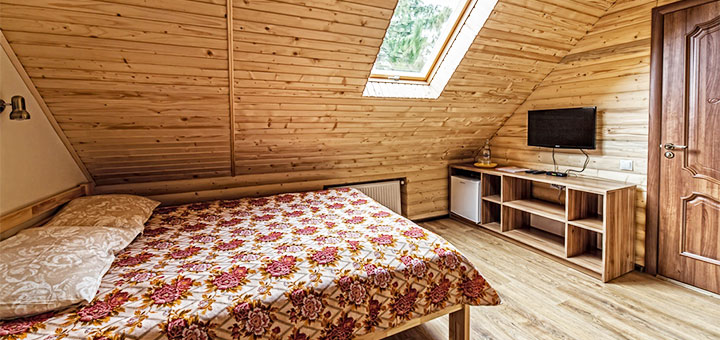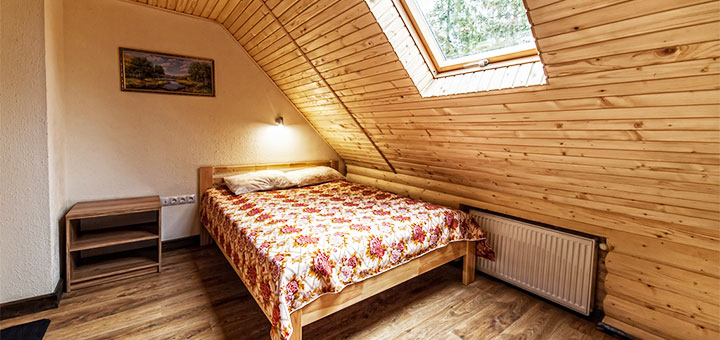 Room area - 12 sq. m.
In the room:
Double bed with bedside tables
Clothes hanger with shelves
Small refrigerator
Flat screen TV with satellite channels
Private bathroom (shower) with hairdryer and toiletries
Yablunytsya (Ivano-Frankivsk region), Dil tract, 280D
From₴1 359
Deal is completed
sale-20%
Saving₴2 801
Buy First