Up to 48 online English lessons for children at the «Flash» School of Foreign Languages
All Ukraine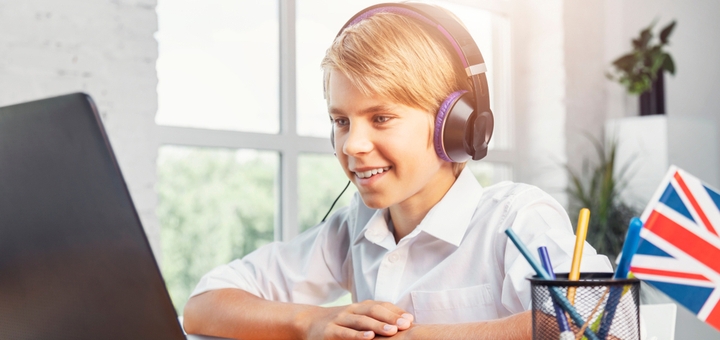 Deal description
With the certificate, you get 12, 24 or 48 online English lessons for children for 1, 2 or 4 months from «Flash» Foreign Language School at a discount.
Service description
Each student takes an active part in the learning process, constantly communicating with the teacher and other children.
In the classroom, the child has the opportunity to repeat the same material many times in different exercises so that it is deposited in his long-term memory.
The school curriculum is specially designed to meet the needs of the general education school and at the same time broaden the horizons of the child and maintain his interest in English both in courses and at school.
The school is engaged in in-depth study of the English language, examining pronunciation, reading, writing and speaking in a complex.
From year to year, about 92% of students continue their studies at school after summer holidays.
Show all options (3)
How to use a certificate?
You can use the certificate from 15.08.2021 to 31.03.2022
The price includes payment for information services provided by Покупон on the basis of the Public Offer.
Please note that depending on the quarantine measures in the region, the partner may ask a visitor to provide a complete vaccination course COVID certificate, a digital certificate about negative coronavirus test result taken no later than 72 hours before the visit, or about recovery for the last 6 months (ask the partner about possible restrictions before purchasing a certificate). The requirements are valid for persons over 18 years old.
IMPORTANT CONDITIONS
Services are provided as usual.
Classes are held online.
Before purchasing a certificate, be sure to check the availability of seats for the desired date and time.
ADDITIONAL CONDITIONS
Discounts on certificates are not cumulative with other promotional offers.
To receive a discount, you must submit a certificate in electronic form.
Give the last digit of the certificate (activation code) only when you receive the service. After activation and registration for a lesson, the service is considered to be provided, and the certificate cannot be returned.
The duration of one lesson is 90 minutes.
Classes are held in groups.
The schedule of classes is 3 times a week (Mon-Wed-Fri or Tue-Thu-Sat). There are no cancellations or rescheduling of classes (there is a working off of 3 missed classes).
If you miss a class, all materials will be sent to your email address for self-study.
The group is formed by appointment - up to 10 children in the group.
Contacts Phones:
+38 (073) 223-58-81
Questions
Доброго дня. Із якого віку можна займатися?
03.09.21 09:24
Добрий день, Олена. Пропозиція актуальна для дітей від 6 років. Перед покупкою сертифіката обов'язково уточніть наявність місць на бажану дату і час. Дякуємо за звернення.
17.08.21 09:00
Добрий день Тетяно. Дякуємо Вам за відгук. Цінуємо, що використовуєте знижки Покупон.
From₴999
You can use the certificate:
15.08.2021 - 31.03.2022
sale-51%
Saving₴3 271
Bought 3
Choose from