Online master classes of Italian cuisine from Elena Mironenko in the «GastroLOFT»
All Ukraine
GastroLOFT
125 users reviews
Deal description
With a vi certificate, you will receive online master classes of Italian cuisine from the chef Elena Mironenko in the culinary studio «GastroLOFT» with a discount.
What is included in the price of the certificate?
Access to training video.
Recipe with all the details.
Online communication with the pastry chef Elena Mironenko.
Italian cuisine course
Caprese salad and three types of pesto:
Classic Pesto genovese.
Pesto alla trapanese with sun-dried tomatoes and almonds.
Pistachio Pesto (Pesto di pistacchio).
Tuna tartare with orange oil and mint.
Eggplant Alla Parmigiana.
Vitello Tonnato.
Minestrone.
Pumpkin cream soup with balsamic cream.
Homemade pasta (basic dough for different types of pasta).
Lasagne bolognese.
Spaghetti Carbonara.
Penne alla norm.
Farfalle in creamy truffle sauce with mushrooms.
Ravioli with duck and parmesan sauce.
Ravioli with turkey and sage oil.
Four cheese pizza (Quattro Formaggio).
Diablo's pizza.
Focaccia with rosemary.
Risotto Milanese.
Shrimp risotto.
Gnocchi with spinach and creamy lemon sauce.
Italian frying pan with minced meat, vegetables and rice.
Ossobuco in Milanese style.
Dorado baked in salt.
Seabass baked with capers, olives, cherry tomatoes, garlic and pine nuts.
Chocolate Pie Torta Caprese.
Yoghurt Panna Cotta with white chocolate.
Cantucci.
Biscotti.
Crostata with grapes and almond cream.
Tiramisu with raspberries.
How to use a certificate?
You can use the certificate from 07.08.2021 to 28.02.2022
The price includes payment for information services provided by Покупон on the basis of the Public Offer.
IMPORTANT CONDITIONS
Services are provided as usual.
Pre-registration is required with the certificate code on Viber +38 (067) 741-73-35.
ADDITIONAL TERMS
Discounts on certificates are not cumulative with other promotional offers.
To receive a discount, you need to send a certificate electronically to Viber +38 (067) 741-73-35.
Contacts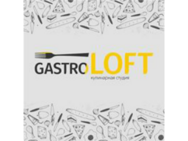 Phones:
+38 (073) 336-17-87
The «GastroLOFT» culinary studio is a unique culinary space where chefs share their unique experience with those who want to master the art of culinary art or learn how to cook interesting dishes. The studio's chefs have vast experience and skills in the restaurant industry. The culinary studio «GastroLOFT» is equipped with modern restaurant equipment for a wide range of possibilities. On the basis of the studio, culinary courses and specialized master classes in confectionery or baking are regularly held.
Questions
Дуже хороша пропозиція, ми задволні😔
Здравствуйте. Скажите, пожалуйста, на курсе показаны все блюда из списка и даны рецепты? Заранее спасибо
19.10.21 10:31
Доброго дня! Так, всі страви та рецепти з переліку будуть на майстер-класах. Дякуємо за звернення.
You can use the certificate:
07.08.2021 - 28.02.2022
sale-67%
Saving₴271
Bought 20
Buy