Online course «Makeup for yourself» from the training center «Margo»
All Ukraine
Deal description
With the certificate, you receive an online course «Makeup for yourself» from the training center «Margo» at a discount.
Show all options (1)
What is included in the price of the certificate?
Technique «My ideal beauty diagnostics» (will help to understand the features of appearance).
Technique «Light makeup for everyday».
«The Smokey You Can Do» technique.
Makeup for beginners.
Lesson «The shape of my perfect eyebrows».
Materials science (a guide on brushes, materials, cosmetics, cosmetic bag revision).
Checking homework on a personal basis.
How to use a certificate?
You can use the certificate from 04.08.2021 to 31.03.2022
The price includes payment for information services provided by Покупон on the basis of the Public Offer.
Please note that depending on the quarantine measures in the region, the partner may ask a visitor to provide a complete vaccination course COVID certificate, a digital certificate about negative coronavirus test result taken no later than 72 hours before the visit, or about recovery for the last 6 months (ask the partner about possible restrictions before purchasing a certificate). The requirements are valid for persons over 18 years old.
IMPORTANT CONDITIONS
Services are provided as usual.
Before purchasing a certificate, be sure to check the availability of seats for the desired date and time.
ADDITIONAL TERMS
Discounts on certificates are not cumulative with other promotional offers.
To receive a discount, you must submit a certificate in electronic form.
Give the last digit of the certificate (activation code) only when you receive the service. After activation, the service is considered to be provided, and the certificate cannot be returned.
Duration of training is 2 weeks (and another 3 months access to lessons after).
Contacts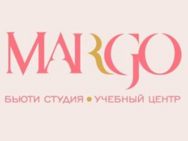 Phones:
+38 (073) 693-74-49
Beauty Studio «Margo» in Kharkov provides manicure, pedicure and make-up. Procedures are performed by certified top masters who continue to improve their skills. There is also a training center at the «Margo» studio, where everyone can learn new skills of caring for their beauty, and you can get a successful profession.
Questions
во время обучения материалы предоставляются или покупать/приносить свои? помогают ли подобрать марку косметики?
19.01.22 10:38
Здравствуйте, Любовь. Материалы Вы используете свои. На уроке материаловедение даются рекомендации по подбору косметики. Благодарим за вопрос.
Благодарна за индивидуальный подход, профессиональный подбор косметики, понравилось очень!
22.11.21 12:17
Здравствуйте, Наталья. Благодарим Вас за отзыв. Будем стараться в дальнейшем только радовать Вас интересными акциями.
Курс просто бомба. Огромное спасибо за такой подарок пройти курс за такую цену.
Какая классная акция, у меня подружка проходила за полную стоимость. Это просто подарок! Результаты ошеломляют. я так обрадовалась когда появилась возможность такому дорогому курсу обучится за такую стоимость.
From₴299
You can use the certificate:
04.08.2021 - 31.03.2022
sale-89%
Saving₴2 446
Bought 20
Choose from