From 4 days of rest with meals and a package of treatment in the sanatorium «Konvaliya»
Truskavets (Lviv region), Pomiretskaya street, 55
Konvalia (Truskavets)
108 users reviews
Deal description
With a certificate, you get at least 4 days of rest for one or two people in rooms of different categories with three meals a day and an additional package of treatment in the «Konvaliya» sanatorium in Truskavets with a discount.
Show all options (32)
What is included in the price of the certificate?
Accommodation for one or two people in a room of the selected category, without sharing a single occupancy. Wi-Fi is only available in the lobby.
Three meals a day (breakfast, lunch and dinner, fruits and dairy products during the day).
Drinking medicinal water (every day).
Treatment procedures (not provided in the period from 25.12.2021 to 20.01.2022):
Classes in the exercise therapy hall, training on simulators and in the gym.
TREATMENT PACKAGE INCLUDES ONE PROCEDURE EACH PER RACE
The doctor's consultation.
Whirlpool mineral foot bath.
Whirlpool mineral bath for hands.
Mineral pearl bath with Valerian or Needles and Lavender or Sage or Juniper or Angelica (jasmine, ylang-ylang, neroli) or Ramses (monarda, tea tree, marjoram) additives to choose from to each.
Intestinal lavage (only the cost of a disposable nozzle is paid on the spot - 35 UAH).
Ozokerite applications.
Electrophoresis.
Amplipulse therapy.
Darsonvalization of the skin of the face and scalp.
Inhalation with anti-inflammatory mixture, propolis tincture or calendula tincture.
Magnetotherapy.
UHF.
Ultrasound therapy.
Infrared mat.
Speleological chamber (salt room).
Toning cocktail (oxygen foams) or herbal tea.
Aromatherapy.
Aromatherapy massage.
Additionally paid
MANDATORY
A tourist tax of 1% is paid additionally on site.
OPTIONAL
By prior arrangement, vacationers will be met by the transport of the sanatorium, or you need to use a taxi (90 UAH from Truskavets).
Additional accommodation: accommodation for one child under 4 years old without providing an extra bed - free of charge without meals, for the second child - in the amount of 50% of the room rate per day according to the promotion.
Extra bed for children from 4 to 14 years old - 50% of the room rate per day for a promotion.
Extra beds in rooms for children over 14 years old and adults are not provided.
How to use a certificate?
BOOKING SERVICE:
Before buying a certificate, pre-book the dates of arrival and the room you are interested in by arranging booking request
Booking service:
+38 (080) 033-68-15
+38 (044) 334-79-47
+38 (099) 300-26-54
+38 (067) 556-73-09
+38 (063) 466-83-74
Working hours: 9:00-21:00, seven days a week.
You have 24 hours to pay for the certificate on the Pokupon website.
After purchasing the certificate, you must confirm the booking and send the certificate code to the booking service book@pokupon.ua
Available dates:
from 23.07.2021 to 28.02.2022
The price includes payment for information services provided by Покупон on the basis of the Public Offer.
IMPORTANT CONDITIONS
Services are provided as usual.
Before purchasing a certificate, pre-book the arrival date and room you are interested in.
After purchasing the certificate, confirm your reservation by phone and send your full name and certificate number without the last digit to your e-mail.
Name the last digit of the certificate (activation code) only at the time of check-in. After activation, the service is considered to be provided, and the certificate cannot be returned.
ADDITIONAL TERMS
It is possible to combine certificates. In this case, it is necessary to summarize the nights. Double room certificate procedures are not cumulative.
Upon check-in, you must present a certificate in electronic form.
The certificate can be returned if you canceled the reservation by phone specified in the promotion, no later than 10 days before the date of arrival.
For procedures, a schedule is created for the first 2 days of arrival.
Contacts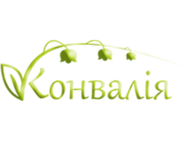 Phones:
+38 (080) 033-68-15
+38 (044) 334-79-47
+38 (099) 300-26-54
+38 (067) 556-73-09
+38 (063) 466-83-74
Sanatorium «Konvalia» is located in the balneological resort of Truskavets in the Transcarpathian region of Ukraine. This picturesque and surprisingly rich area is appreciated by tourists from all over the world and attracts not only with its relaxation, but also with its wellness program. The sanatorium is located on the territory of 4.5 hectares of mountainous terrain on the shore of the lake and is distinguished by the compactness and comfort of small two- and three-storey buildings and wooden cottages. Such a recreation center with its own medical building, dietary meals based on the examination of qualified local doctors and SPA procedures.
The sanatorium is ideal for individual and family holidays, children's camps. The institution specializes in treating:
chronic diseases of the liver and biliary tract - gastritis, enterocolitis, pancreatitis;
urolithiasis;
cystitis;
diathesis, diabetes, gout, obesity and more.
Distance to:
Truskavets railway station - 3 km
Lviv - 85 km
Kiev - 587 km
Food and drinks:
Cafe-dining room
Nutrition
Diet menu (on request)
Things to do?
Mineral water treatment
Wellness procedures
Massage room
Playground
Fishing
Hiking in the woods
Catamarans riding
Beach
Excursion tours
Good to know:
Check-in - 09:00
Departure - 10:00
By prior agreement with the administration and subject to availability, early check-in and late check-out are possible.
The treatment center is open from 10:00 to 15:00 on weekdays
Pets are not allowed
In a hotel:
Mineral water pump room on site
Parking
Wi-Fi (in the lobby)
Playground
Park area with gazebos
Lake
Conference hall
Rooms of the sanatorium «Konvalia»
Deluxe suite
Suite
Junior suite
Standard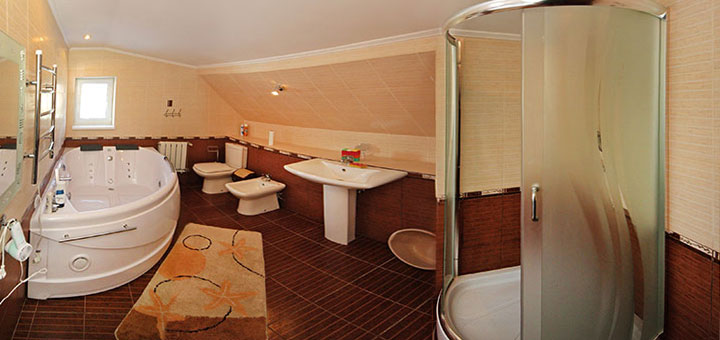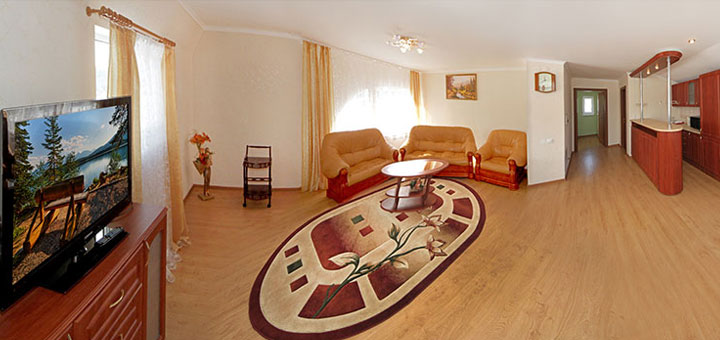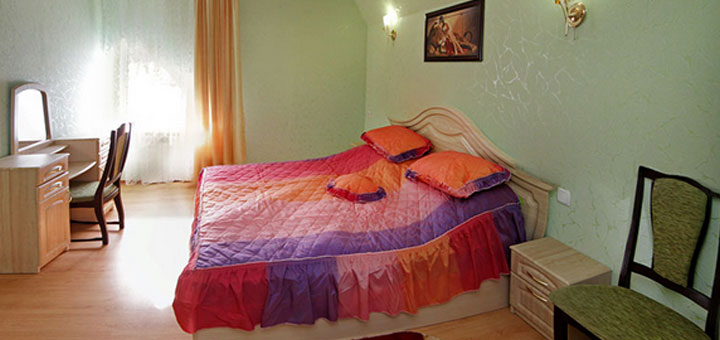 Two-story room
In the room:
Armchair

2 sofas

TV set

Refrigerator

Electric kettle

Closet

Tableware

Balcony

Kitchen area

Microwave

Tableware

Double bed

Dressing table

Bathroom: toilet, washbasin, shower, dryer, corner bath, hairdryer
Truskavets (Lviv region), Pomiretskaya street, 55
Questions
Address:
Truskavets (Lviv region), Pomiretskaya street, 55
Address:
Truskavets (Lviv region), Pomiretskaya street, 55
воды горячей нет, холодно, рецепшин отвратительно, еда отличная, отмосфера среди отдыхающих на высоте, спасибо замдиректору прексный человек , мед персонал внимательный, нужно исправить недостатки, нет мобильной связи и интернета...
18.09.21 13:27
Здравствуйте, Александра. Добрый день.Спасибо, что поделились своим впечатлением. Ценим, что используете скидки Покупон.
Address:
Truskavets (Lviv region), Pomiretskaya street, 55
Природа, номер и территория хорошие. Еда так себе, проблемы с водой постоянно, пришлось бегать искать сантехника самому, чтобы решить проблему с водой. Массаж по купону предоставить отказались - только за деньги 150 грн. Не рекомендую
07.09.21 16:11
Здравствуйте. Спасибо Вам за отзыв. В обязательном порядке он будет передан руководству и ответственному специалисту отдела контроля качества. Будем стараться в дальнейшем только радовать Вас интересными акциями.
Address:
Truskavets (Lviv region), Pomiretskaya street, 55
Address:
Truskavets (Lviv region), Pomiretskaya street, 55
Категорически не рекомендую. Приехали после обеда, процедур нам не предложили не смотря на то, что у них они до пяти по субботам, доктора дежурного нет, в отличие от других санаториев Трускавца, где мы были. В итоге два дня просто пропали. Еда якобы под предлогом диетической откровенно убогая и нескучная. Санаторий находится далеко от Трускавца, дорога туда - "военно-полевая", до города не пойдешь, в самом санатории более одного дня делать нечего. Вынуждены купить другую путевку:(
09.08.21 11:46
Здравствуйте, Татьяна. Благодарим за Ваш отзыв. Сожалеем, что Вы остались недовольны. Мы примем предоставленную Вами информацию во внимание и проинформируем менеджера акции. В качестве компенсации мы вышлем Вам промо код номиналом в 50 грн. на электронную почту. Спасибо, что помогаете сделать наш сервис лучше.
From₴2 049
Available dates:
23.07.2021 - 28.02.2022
sale-20%
Saving₴3 801
Bought 21
Choose from