Laser tattoo removal and permanent make-up in the cosmetology clinic «Dr. Zapolska Clinic»
3 addresses in Kiev
Dr. Zapolska Clinic
129 users reviews
Deal description
With the certificate you get laser removal of one-color or multi-colored tattoos and tattoo areas in the cosmetology clinic «Dr. Zapolska Clinic» with a discount. The offer is relevant only for new customers
Service description
Controlled destruction of pigment by picosecond Q-switch laser followed by elimination of pigment from the body. Removal of tattoos of any color and depth of pigment, no damage to surrounding tissues - no pain, no scarring.
Show all options (9)
How to use a certificate?
You can use the certificate from 04.07.2021 to 31.03.2022
The price includes payment for information services provided by Покупон on the basis of the Public Offer.
IMPORTANT CONDITIONS
Services are provided as usual.
The offer is relevant only for new customers who have not visited «Dr. Zapolska Clinic» and «Z.Laser.Bar».
Before purchasing a certificate, be sure to check the availability of seats for the desired date and time.
ADDITIONAL CONDITIONS
Discounts on certificates are not cumulative with other promotional offers.
To receive a discount, you must submit a certificate in electronic form.
Give the last digit of the certificate (activation code) only when you receive the service. After activation, the service is considered to be provided, and the certificate cannot be returned.
If the client signed up for the procedure, but did not show up at the specified time and did not warn about the change in his plans 12 hours before the appointed time, the administration reserves the right to refuse him to provide services at a discount.
The procedure is carried out with a neodymium laser «Q-switch».
The duration of the procedure is up to 60 minutes.
Contacts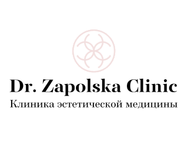 Phones:
+38 (067) 506-70-66 (Viber, Telegram, WhatsApp)
«Dr. Zapolska Clinic» is a team of cosmetologists who can be trusted with their health. More than ten years of experience, a license from the Ministry of Health of Ukraine, certified drugs, diplomas and training of cosmetologists, a delicate taste for harmony - all this is the key to a result that every patient will be satisfied with.
The chief physician of the clinic, Ekaterina Mikhailovna Zapolskaya, candidate of medical sciences, plastic surgeon, cosmetologist. She has created her own technique of Full Face microbolus preparations, thanks to which your face will be absolutely natural and harmonious. He also holds a patent for the PRP-therapy procedure (plasma-lifting with increased efficiency), is the author of an effective technique for eliminating horizontal neck folds (hyaluronodissection).
Committed to the most natural result of minimally invasive procedures and an integrated approach to solving aesthetic issues, they apply the latest developments in the field of aesthetic medicine. Therefore, contacting «Dr. Zapolska Clinic», you can be sure of a professional approach to your beauty and health.
Questions
Address:
Kiev, Krugluniversitetskaya street, 2/1
- nearest underground station Ploscha L'va Tolstoho
Здравствуйте, вы татуаж стрелок убираете?
02.01.22 16:34
Здравствуйте, Екатерина. Да. Благодарим за обращение.
Address:
Kiev, Krugluniversitetskaya street, 2/1
- nearest underground station Ploscha L'va Tolstoho
круто) неожиданно дешево)
Это цена за один сеанс удаления тату, или пока тату не будет удалено?
05.07.21 08:40
Здравствуйте, Павел Да, цена указана за сеанс. Длительность процедуры - до 60 минут. Благодарим за обращение.
Здравствуйте! Это стоимость за один сеанс?
05.07.21 08:40
Здравствуйте, Анастасия. Да, цена указана за сеанс. Длительность процедуры - до 60 минут. Благодарим за обращение.
From₴199
You can use the certificate:
04.07.2021 - 31.03.2022
sale-65%
Saving₴2 301
Bought 10
Choose from