Sorry, but deal is over
Subscribe for notifications, so we can send you new offers from "Zaliv (Sarny)".
You can also view other discounts and deals "Zaliv (Sarny)"
Want to receive new offers by email from the "Zaliv (Sarny)"?
Enter your email so you don't miss anything
From 3 days of rest with breakfasts in the hotel complex «Zaliv» on the shore of the lake
Sarny (Rivne region)
Zaliv (Sarny)4 users reviews
Deal description
With a certificate, you get from 3 days of rest on weekdays for two with breakfast in hotel rooms, for six in a cottage or for a company of up to 16 people in a three-storey house in a hotel complex with a swimming pool «Zaliv» on the lake shore at a discount.
Service description
What is included in the price of the certificate?
Accommodation for two, six or a group of up to 16 people in hotel rooms, a cottage or a three-storey house with a sauna on weekdays.
Breakfasts for two (only for those living in double hotel rooms).
Use of the sauna (only for those living in a three-storey building).
Use of the outdoor outdoor pool.
Use of the children's room.
Use of the sports complex.
Summer arbor with barbecue facilities.
Use of Wi-Fi in rooms and on site.
Use of a guarded parking lot.
Use of the playground.
ADDITIONAL BONUSES
It is possible to combine certificates. In this case, it is necessary to add up the nights.
Additionally paid
OPTIONAL
Three meals a day - 550 UAH per guest per day.
Individual yoga trainings with a trainer - 350 UAH/lesson.
Kayaking with an instructor - 350 UAH.
Group safari on two-seater ATVs - 1200 UAH for 2 hours per ATV.
Kayak rent - 100 UAH/hour.
Bicycle rental - 40/hour.
Rent of a tennis court, football field, volleyball field - 100 UAH/hour.
Buggy excursion for 5-6 people - 1500 UAH for 2.5 hours.
Motorboat ride - 650 UAH/40 minutes.
Fishing - 55 UAH/day.
Rent a boat for fishing - 100 UAH/day.
Transfer by helicopter from Kiev and back (specify the cost).
By prior arrangement, a transfer is organized from the railway station «Sarny» to «Zaliv» and back.
Additional accommodation: in the hotel and in cottages for children under 7 years old - free of charge (without providing an extra bed).
In the hotel rooms for children over 7 years old and for adults - an armchair-mattress and a bed for 200 UAH/day. Additional accommodation for adults is not provided in the cottages.
How to use a certificate?
BOOKING SERVICE:
Before buying a certificate, pre-book the dates of arrival and the room you are interested in by arranging booking request
Booking service:
+38 (080) 033-68-15
+38 (044) 334-79-47
+38 (099) 300-26-54
+38 (067) 556-73-09
+38 (063) 466-83-74
Working hours: 9:00-21:00, seven days a week.
You have 24 hours to pay for the certificate on the Pokupon website.
After purchasing the certificate, you must confirm the booking and send the certificate code to the booking service book@pokupon.ua
Available dates:
from 01.06.2021 to 31.10.2021
The price includes payment for information services provided by Покупон on the basis of the Public Offer.
IMPORTANT CONDITIONS
The promotional offer applies only to the period of arrivals from Monday to Friday (check-in is possible from Monday to Thursday, check-out no later than 12:00 on Friday. If you check-in on Thursday, then only for 1 night, with check-out on Friday before 12:00).
Before purchasing a certificate, pre-book the arrival date and room you are interested in.
After purchasing the certificate, confirm your reservation by phone and send your full name and certificate number without the last digit to your e-mail.
Name the last digit of the certificate (activation code) only at the time of check-in. After activation, the service is considered to be provided and the certificate cannot be returned.
ADDITIONAL CONDITIONS
It is possible to combine certificates (it is necessary to summarize the nights).
Upon check-in, you need to present a certificate in electronic form.
The certificate can be returned if you canceled the reservation by phone specified in the promotion, no later than 7 days before the date of arrival.
In the event of an early termination of the holiday at the request of the guests, the funds for the unused day will not be refunded.
If the booking is confirmed and the certificate is activated, the certificate automatically becomes non-refundable.
Contacts Phones:+38 (080) 033-68-15+38 (044) 334-79-47+38 (099) 300-26-54+38 (067) 556-73-09+38 (063) 466-83-74
The recreation complex «Zaliv» is located among picturesque nature in the Rivne region. Rest in the complex «Zaliv» will be comfortable both for hunters and fishermen, and for lovers of contemplative practices - meditation, retreat, yoga.
The infrastructure consists of cottages, a restaurant, a hotel, a beach and an outdoor pool with a length of 23 meters, as well as sports grounds for playing mini-football, basketball, tennis and ping-pong. The cottages are built of wood and natural materials in compliance with building regulations and fire safety. Each has a fireplace, which is so cozy to spend your evenings. Barbecues are equipped near the houses, which allows guests to arrange a barbecue party.
The central structure of the «Bay» is the restaurant «Game» with a view of the lake, made in the style of a light and spacious French chalet. The chef will delight you with dishes of European and Ukrainian cuisine, game dishes on the grill. You can also buy ready-made farm products here. Among the pine trees next to the restaurant there are comfortable gazebos overlooking the forest and lake. For children, there is a playground located in a prominent place, an animator works.
For the convenience of guests, there is a guarded parking lot for 50 cars. Security guards provide security based on round-the-clock video surveillance. By prior arrangement, a transfer from the Sarny railway station to the Zaliv and back is possible.
Good to know:
Check-in - 13:00
Check out - 12:00
Accommodation with pets is possible by prior agreement with the administration
How to get there:
By train or bus to Sarny station, you can agree with the hotel transfer from the station for 200 UAH
GPS coordinates: 51 20 43.2 "N, 26 46 20.7" E
In the hotel:
Pool
Children's room
Sports complex
Free Wi-Fi
Free parking
Playground
Mini football
Basketball
Tennis
Comfortable hotel rooms and cottages for a company
House with a sauna for a large company
24-hour guarded territory under video surveillance
Transfer
Things to do?
Yoga classes
Quad biking
Swimming in the river and lake
Swimming in the outdoor pool and relaxing on sun loungers
Hiking and mushroom picking
Excursions and hikes
Visit to a nursery with wild forest dwellers
Fishing
Bath (for those living in the house)
Kayaking, motorboat
Cycling - 40 / hour
Sports leisure on the football / volleyball field
Playing tennis
Buggy tour
Honey tasting in the apiary
Corporate events, teambuildings, quests
Romantic weekend on a secluded island in the middle of the lake
Kayaking, canoeing
Visit to a healing spring
Food and drinks:
Restaurant Game with complex meals
Braziers
Equipped kitchen for self-catering - in cottages and in the house
Distance to:
Sarny city center - 12 km
Sarn railway station - 14 km
Rivne - 130 km
Kiev - 300 km (along the highway "Kiev-Warsaw")
Airport Kiev (Zhuliany) - 302 km
Rooms of the recreation complex «Zaliv»
Three-storey house with a sauna
Three-room two-storey cottage
Double room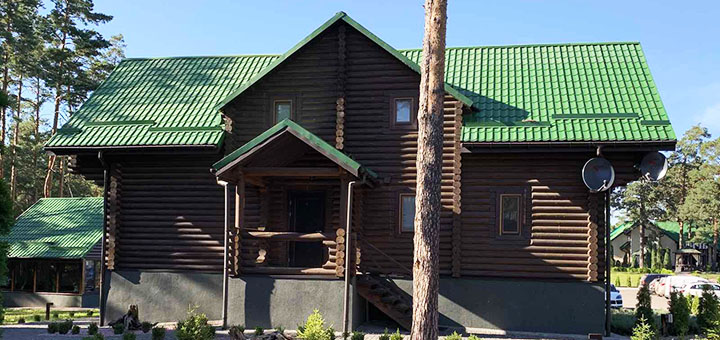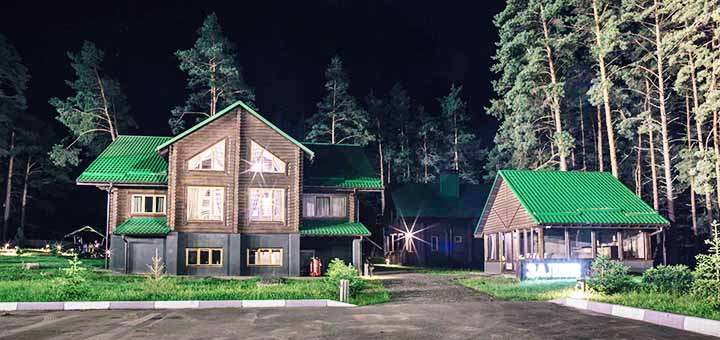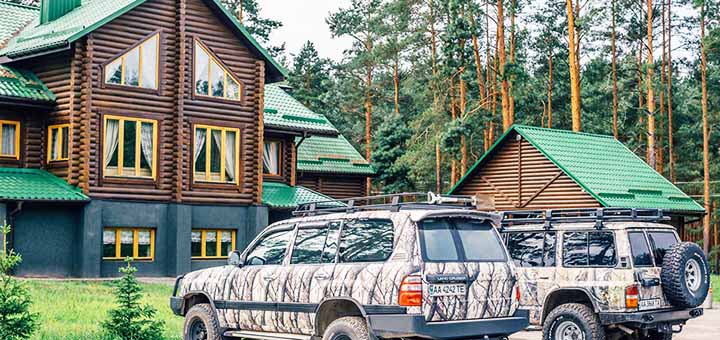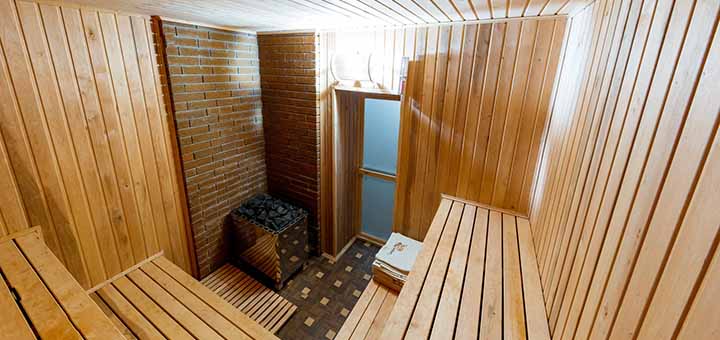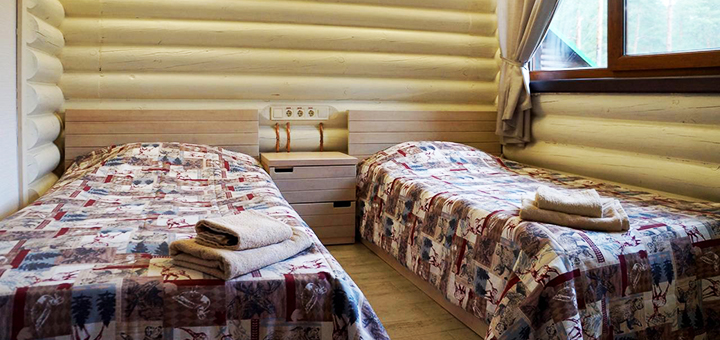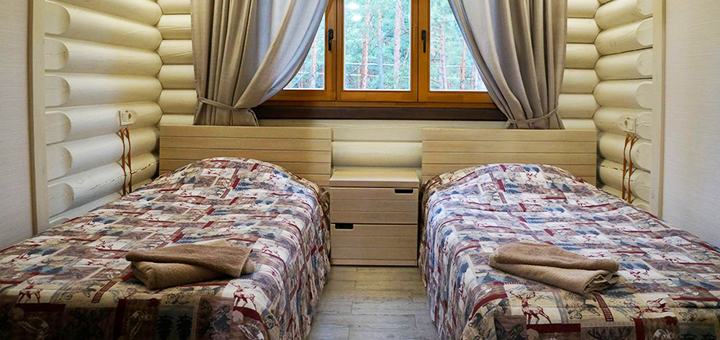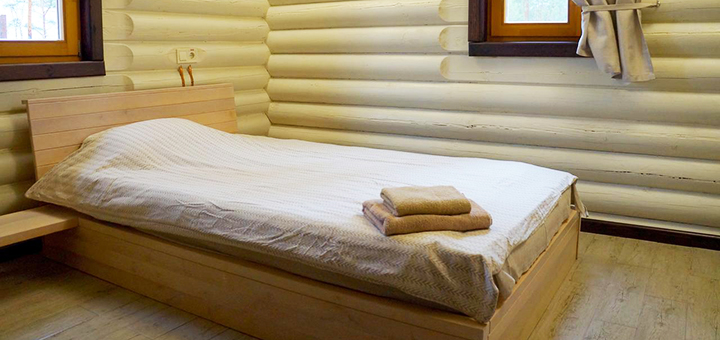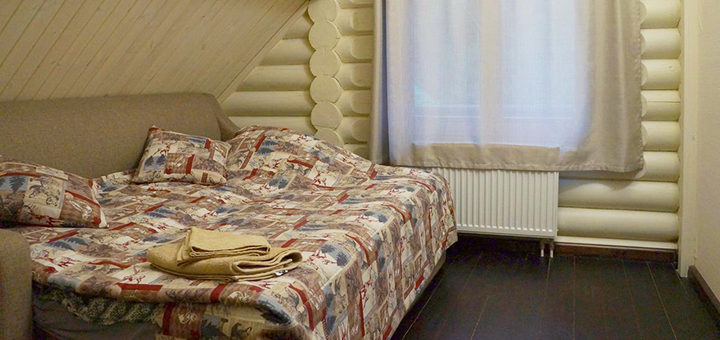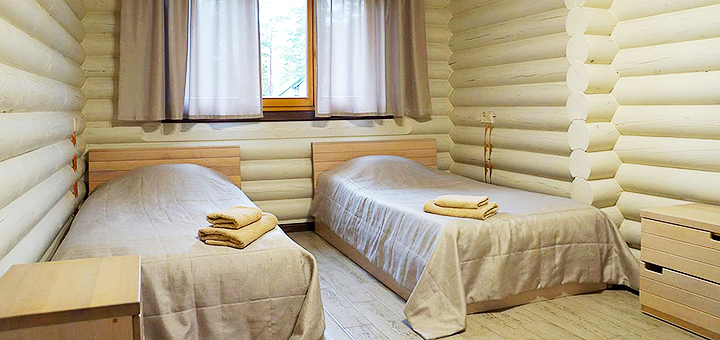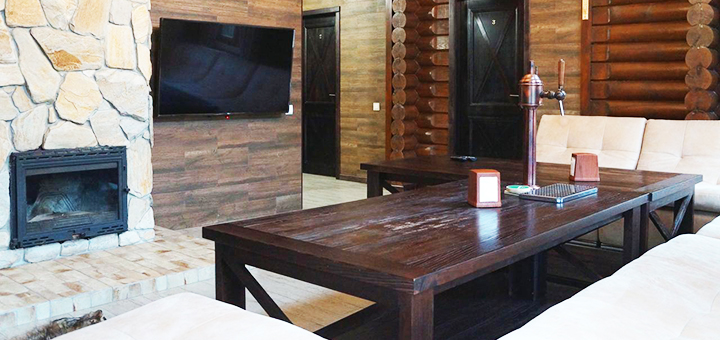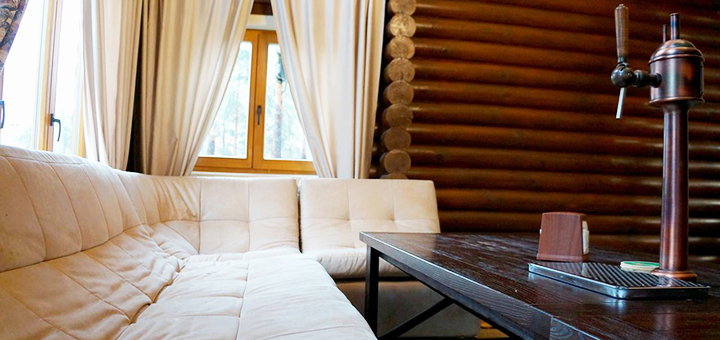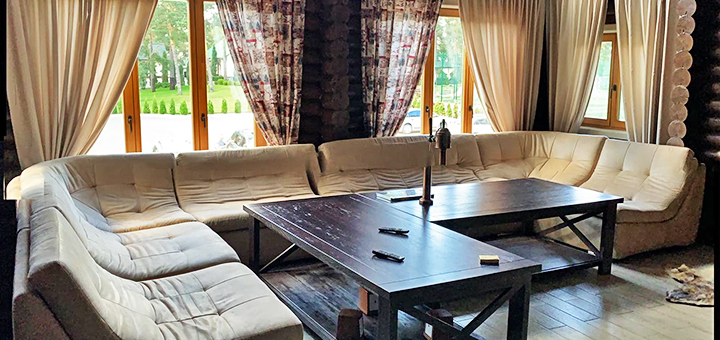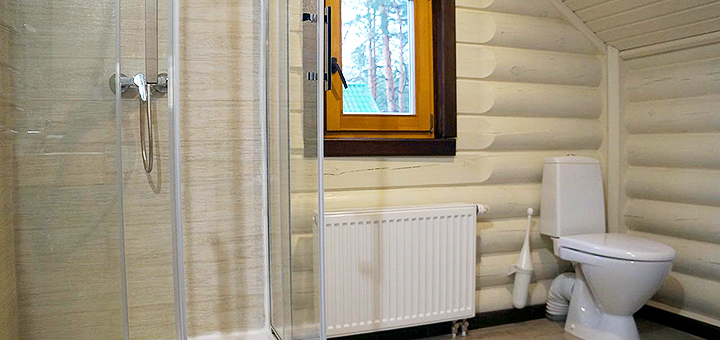 In home:
Triple bedroom with three single beds
Four double bedrooms, each with two single beds
Living room with single queen-size beds
6 bathrooms
Kitchen:
Table and chairs
Induction cooker
Fridge
Microwave
Kettle
Minimum required utensils
Plasma TV and satellite TV
Large loggia overlooking the forest
Electric bath
Questions
7 Feedback
Были в мае + Вкусная кухня, хорошее меню + Мало людей, никто друг другу не мешает + Замечательная природа, много интересных животных и птиц + Отличный номер с огромным телевизором - Много комаров, но проводится обработка от них - Стройка, иногда в 8.30 утра начинали шуметь - Объявили нам выезд в 10 утра, хотя на Покупоне четко написано, что выезд в 12.00
Address: Sarny (Rivne region)
Сейчас отдыхаем тут. Атмосфера супер, территория красивая и ухоженная, приятный персонал В домике все необходимое есть. Очень довольная отдыхом, думаю вернёмся сюда еще!
09.09.21 13:27
Здравствуйте, Кристина. Благодарим Вас за отзыв. Спасибо, что используете скидки Покупон.
Address: Sarny (Rivne region)
доброго дня. басейн з підігрівом, в прохолодну погоду можливе купання?
23.08.21 10:39
Доброго дня, Ірина. На території готелю знаходиться басейн без підігріву. Дякуємо за звернення.
1 Feedback
Добрий день. Підскажіть, будь ласка, чи можливе підселення для дитини 8 років?
19.08.21 15:08
Добрий день, Олена. У номерах готелю для дітей старше 7 років і для дорослих - крісло-матрац і ліжко за 200 грн / добу. У котеджах додаткове розміщення для дорослих не передбачено. Дякуємо за звернення.
From₴1 999
Deal is completed
sale-36%
Saving₴10 801
Bought 3