Weekend tour «Festive» in the sanatorium «Dubrava» near Kiev
Bila Tserkva (Kiev region), Lesnaya street, 2B
Dubrava (Bila Tserkva)
19 users reviews
Deal description
With a certificate you will receive a weekend tour «Festive» for one or two in the health resort «Dubrava» near Kiev with a discount.
Show all options (2)
What is included in the price of the certificate?
Accommodation for one or two people in a standard or superior room - 2 days/2 nights.
Three meals a day in the VIP-hall according to the «Menu to order» program.
One dinner with a bottle of champagne delivered to your room.
Facial mask or peeling (at choice) - 1 procedure (peeling procedure is provided in the autumn-winter period. In the spring-summer period, it is recommended to carry out the carboxytherapy procedure).
Herbal tea or oxygen foam of your choice - 2 servings.
Underwater shower massage - 1 procedure.
Orange pearl bath - 1 procedure.
Coniferous pearl bath - 1 procedure.
Climatotherapy.
Terrenkur.
Game of billiards.
Additionally paid
MANDATORY
A tourist tax of 1% is paid additionally on site.
How to use a certificate?
BOOKING SERVICE:
Before buying a certificate, pre-book the dates of arrival and the room you are interested in by arranging booking request
Booking service:
+38 (080) 033-68-15
+38 (044) 334-79-47
+38 (099) 300-26-54
+38 (067) 556-73-09
+38 (063) 466-83-74
Working hours: 9:00-21:00, seven days a week.
You have 24 hours to pay for the certificate on the Pokupon website.
After purchasing the certificate, you must confirm the booking and send the certificate code to the booking service book@pokupon.ua
Available dates:
from 10.01.2022 to 31.05.2022
The price includes payment for information services provided by Покупон on the basis of the Public Offer.
IMPORTANT CONDITIONS
Services are provided as usual.
Before purchasing a certificate, pre-book the arrival date and room you are interested in.
After purchasing the certificate, confirm your reservation by phone and send your full name and certificate number without the last digit to your e-mail.
Name the last digit of the certificate (activation code) only at the time of check-in. After activation, the service is considered to be provided, and the certificate cannot be returned.
ADDITIONAL CONDITIONS
It is possible to combine certificates (it is necessary to summarize the nights).
Upon check-in, you need to present a certificate in electronic form.
The certificate can be returned if you canceled the reservation by phone specified in the promotion, no later than 3 days before the date of arrival.
Contacts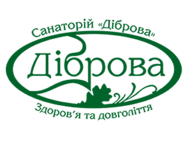 Phones:
+38 (080) 033-68-15
+38 (044) 334-79-47
+38 (099) 300-26-54
+38 (067) 556-73-09
+38 (063) 466-83-74
Sanatorium «Dubrava» is located in the town of Belaya Tserkov on a large green area not far from the Alexandria dendrological park. It offers vacationers a wide range of medical procedures. The sanatorium has a Spa-center, sauna and massage room. While resting here, you can do fitness in the fresh air, play badminton, visit the library.
The sanatorium's dining room serves diet meals prepared with fresh local produce. Cozy rooms are equipped with comfortable beds and private bathrooms.
Good to know:
Check-in - 10:00
Departure - 10:00
The staff speaks Ukrainian, Russian and English
Pets are not allowed
In the hotel:
Park territory
Terrace
Garden
Gym
Massage room
Sauna
Hydromassage bath
Spa center
24-hour front desk
Wi-Fi
Parking
Library
Table tennis
Billiards
Laundry
Ironing clothes
Beauty saloon
Transfer
Things to do?
Treatment and recovery
Aerobics
Hiking
Beach vacation
Camping
Playing badminton
Fishing
Food and drinks:
Dining room
Diet menu
Coffee house
Distance to:
Arboretum Alexandria - 1 km
Kiev - 91 km
Rooms of the sanatorium «Dubrava»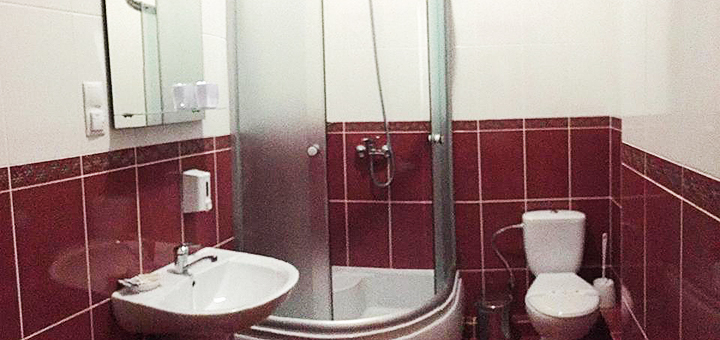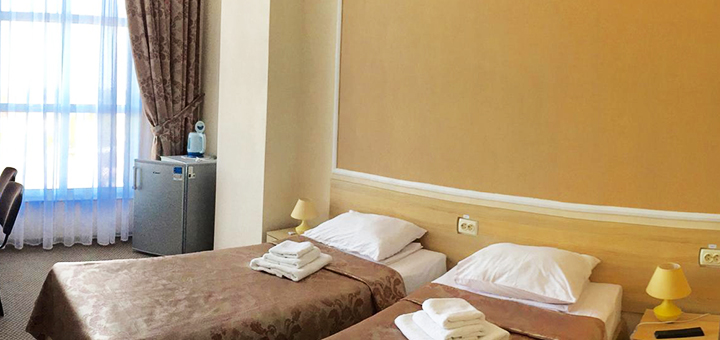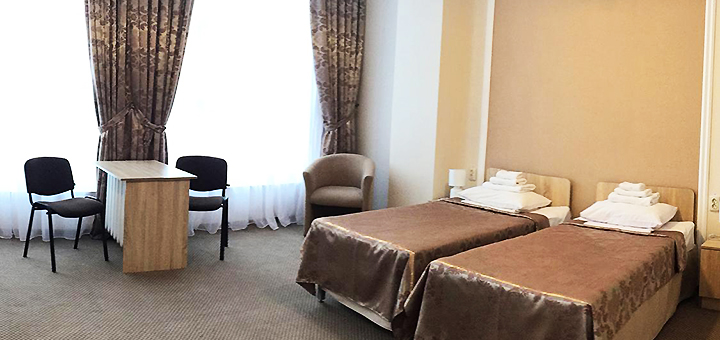 Room area - 18 sq. m.
In the room:
Two single beds
Cupboard
Refrigerator
Flat screen TV
Clothes rack
Electric kettle
Bathroom: bath or shower, toilet, towels
Bila Tserkva (Kiev region), Lesnaya street, 2B
Questions
Address:
Bila Tserkva (Kiev region), Lesnaya street, 2B
Санаторий с советских времен. И это не только про мебель. Это про сервис, про еду. Про отношение. Еда ужасная, это при том, что я люблю санаторную еду. Воды горячей временами нет. Воды питьевой нет. На самом деле номер в санатории стоит даже дешевле чем на этом сайте. Поэтому, если у вас есть желание и данная сумма, лучше выберите другой санаторий. Что понравилось? Это подводный душ массаж, природа вокруг и отопление в номере.
18.10.21 15:42
Здравствуйте, Ирина. Спасибо Вам за отзыв. Сожалеем, что Вы остались недовольны. Будем стараться в дальнейшем только радовать Вас интересными акциями.
From₴1 899
Available dates:
10.01.2022 - 31.05.2022
sale-25%
Saving₴1 201
Bought 5
Choose from