Visit to the quest room «Jurassic Secrets» from «Family Quest»
Kiev, Stepan Bandera prospect, 23
Family quest
75 users reviews
Deal description
With the certificate you get a visit to the quest room «Jurassic Secrets» from «Family Quest» with a discount.
Service description
A family and children's quest room in the style of archeology and sound adventurism will win your heart from the first seconds and will not leave you indifferent for a long time.
Quest Legend:
A new exhibition has been brought to the paleontological museum. Unique exhibits dating from the Mesozoic era are ready to amaze guests. But who knew that a clumsy museum caretaker, looking at a statue of a mammoth, would break an ancient dinosaur egg! Now young rangers have to go on a jungle adventure in search of a new egg, discover the secret of the Jurassic period and save the exhibition from collapse.
The quest program «Secrets of the Jurassic» includes:
Passage of a real, modern quest room. With atmospheric decorations, mechanisms, spy technology and special effects.
Tasks that develop logic and creative, non-standard thinking in children.
Commemorative badges for completing the quest.
Quest room for children and teenagers, as well as their parents!
Additionally paid
OPTIONAL
Participation of an additional player - 210 UAH.
How to use a certificate?
You can use the certificate from 24.02.2021 to 28.02.2022
The price includes payment for information services provided by Покупон on the basis of the Public Offer.
Please note that depending on the quarantine measures in the region, the partner may ask a visitor to provide a complete vaccination course COVID certificate, a digital certificate about negative coronavirus test result taken no later than 72 hours before the visit, or about recovery for the last 6 months (ask the partner about possible restrictions before purchasing a certificate). The requirements are valid for persons over 18 years old.
IMPORTANT CONDITIONS
Services are provided as usual.
The offer is valid for children over 6 years old.
One certificate is valid for a company of up to 4 players.
Advance booking by phone is required.
ADDITIONAL TERMS
Discount on certificates is not cumulative with other current offers of the company.
To receive a discount, you need to present a printed certificate or an electronic certificate.
Give the last digit of the certificate (activation code) only when receiving the service. After activation, the service is considered to be provided, and the certificate cannot be returned.
If the client signed up for the game, but did not show up at the specified time and did not warn about the change in his plans at least 24 hours in advance, the administration reserves the right to refuse him to provide services at a discount.
The duration of the quest is 40-60 minutes.
Contacts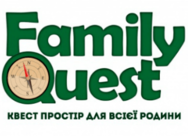 Phones:
+38 (073) 872-12-73
Family Quest has been creating quests since 2017. The company organizes live quests for children and family quest rooms.
Family Quest quests for children will be a good team building for the class and an interesting format for celebrating a graduation or other children's event.
You can order a real quest for children in the Cosmopolitan, New Way and Gorodok shopping center or an exit program.
м. Pochayna, Kiev, Stepan Bandera prospect, 23
Questions
Address:
Kiev, Stepan Bandera prospect, 23
- nearest underground station Pochayna
Все понравилось, квест для детей и для взрослых. На небольшое количество людей, так как квестовые комнатки небольшие и их всего две.
17.08.21 16:12
Здравствуйте, Виктория. Благодарим Вас за отзыв. Спасибо, что используете скидки Покупон.
Address:
Kiev, Stepan Bandera prospect, 23
- nearest underground station Pochayna
Детям 6 лет было скучно и не интерестно.
26.07.21 16:58
Здравствуйте. Спасибо Вам за отзыв. Сожалеем, что Вы остались недовольны. Будем стараться в дальнейшем только радовать Вас интересными акциями.
Address:
Kiev, Stepan Bandera prospect, 23
- nearest underground station Pochayna
С какого возраста можно детям принимать участие вместе с родителями?
30.04.21 14:07
Здравствуйте. Вместе с родителями с 6-ти лет. Благодарим Вас за вопрос.
Address:
Kiev, Stepan Bandera prospect, 23
- nearest underground station Pochayna
Добрый день. Это за одного игрока или с каманды?;
16.03.21 09:37
Здравствуйте, Анна Сертификат на команду. Один сертификат действует на компанию до 4 игроков. Благодарим за обращение.
Address:
Kiev, Stepan Bandera prospect, 23
- nearest underground station Pochayna
You can use the certificate:
24.02.2021 - 28.02.2022
sale-35%
Saving₴291
Bought 47
Buy