Sorry, but deal is over
Subscribe for notifications, so we can send you new offers from "1001".
You can also view other discounts and deals "1001"
Want to receive new offers by email from the "1001"?
Enter your email so you don't miss anything
A 40% discount on hookah, beer and snacks at the soccer-bar «Tysyachka»
Lviv, Bratyv Rohatyntsiv Vulytsia, 19
100135 users reviews
Deal description
With a coupon you will get 40% discount on hookah, beer and snacks before beer at the soccer-bar «Tysyachka» hookah bar.
What is included in the price of the certificate?
Vibir tobacco
Al fakher.
Serbetli.
Fumari.
Cult.
Daily Hookah.
Tangiers.
Darkside.
How to use a certificate?
You can use the coupon from 03.10.2020 to 20.11.2021
The price includes payment for information services provided by Покупон on the basis of the Public Offer.
Please note that depending on the quarantine measures in the region, the partner may ask a visitor to provide a complete vaccination course COVID certificate, a digital certificate about negative coronavirus test result taken no later than 72 hours before the visit, or about recovery for the last 6 months (ask the partner about possible restrictions before purchasing a certificate). The requirements are valid for persons over 18 years old.
VAZHLIVI UMOVI
Servants are nadayutsya in a zvichny regime.
Special offer for landing at the stake.
One coupon for two individuals. If you plan to come three times, then add 2 coupons, if you v'yatokh - 3 coupons.
Auction for any day or hour of the robot I will mortgage.
The promotion does not apply to beer boards and hot dishes.
Obov'yazkovy forward recording.
DODATKOVI UMOVI
One entry can be made especially fast with an uninterrupted number of coupons.
Digger books cannot be matched with internal stocks and mortgage books.
To discard a discount, you will need to present a coupon or a coupon in the email before replies.
GRAFIK ROBOTI
Mon-Fri: 12:00 - 00:00.
Sat, Nd: 13:30–00:00.
Refunds for Information Services are carried out exclusively on the grounds provided for in Art. 10 of the Law of Ukraine 'On Protection of Consumer Rights'. To refund the cost of the Information Service, the User provides Покупон with the Seller's confirmation (in any form) that the Seller refused to transfer the Goods to the User on Special Conditions.
Contacts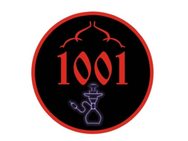 Phones:+38 (067) 939-03-30
Hookah bar «1001» is an institution for real fans of FC Liverpool and AC Milan. Here, in a relaxed atmosphere of relaxation, all football matches and their recordings are broadcast. For those who like to spend the evening with their own people, there are separate VIP rooms, as well as lounge areas for fans of board games.
A wide selection of menus and drinks will not leave you indifferent, and a delicious hookah, with a wide range of tobacco, will allow you to find your favorite taste and spend the evening in pleasure.
Questions
13 Feedback 3 Photo
Address: Lviv, Bratyv Rohatyntsiv Vulytsia, 19
Дуже люблю цей заклад. Завжди затишно й комфортно. Є смачні крильця, смажені вареники і чай імбирний, кальяни само собою 🔥♥️
15.11.21 09:10
Добрий день, Вікторія. Дякуємо Вам за відгук. Цінуємо, що використовуєте знижки Покупон.
2 Feedback
Address: Lviv, Bratyv Rohatyntsiv Vulytsia, 19
Address: Lviv, Bratyv Rohatyntsiv Vulytsia, 19
5 Feedback
Address: Lviv, Bratyv Rohatyntsiv Vulytsia, 19
1 Photo
Address: Lviv, Bratyv Rohatyntsiv Vulytsia, 19

Deal is completed
sale-40%
SavingNo limited
Bought 707