Sorry, but deal is over
Subscribe for notifications, so we can send you new offers from "Ekaterina Yaroshenko".
You can also view other discounts and deals "Ekaterina Yaroshenko"
Want to receive new offers by email from the "Ekaterina Yaroshenko"?
Enter your email so you don't miss anything
Up to 3 online consultations about relationships with children from Ekaterina Yaroshenko
All Ukraine
Ekaterina Yaroshenko32 users reviews
Deal description
With the certificate, you get 1 or 3 online consultations on relationships with children and adolescents from the psychologist-educator Ekaterina Yaroshenko with a discount.
Service description
The teacher-psychologist Ekaterina Yaroshenko will help the child overcome problems, cope with difficulties in behavior and learning. With her, you can share your concerns and anxieties associated with raising a child, discuss a difficult situation.
The psychologist will consult on the following issues:
Removal of game and other addictions.
What is laziness and how to deal with it, motivation for education.
Learning difficulties.
Calm and self-control.
Attention deficit hyperactivity disorder.
Behavioral problems (tantrums, aggression, hot temper, incontinence, deception).
Fears, phobias, anxiety (the child is afraid of the dark, animals, transport, going to school, being alone, fearing the exam).
Social adaptation (conflicts in the team, lack of friends).
Overcoming fear, developing confidence, working through situations.
Relief of teenage aggression and stress.
Overcoming childhood fears and self-doubt.
Learning to communicate with parents.
Many mistakes, how to learn from them.
How to avoid bad situations.
Solving and working out conflict situations.
Increased self-esteem and motivation.
Managing your own emotions.
How to use a certificate?
You can use the certificate from 25.04.2021 to 28.02.2022
The price includes payment for information services provided by Покупон on the basis of the Public Offer.
IMPORTANT CONDITIONS
The service is provided as usual
One client can personally use only one certificate.
If the psychologist did not immediately answer your call, then he is consulting and will call you back later.
Pre-registration is required.
ADDITIONAL TERMS
Discounts on certificates are not cumulative with other promotional offers.
To receive a discount, you need to present a printed certificate or an electronic certificate.
Call the activation code of the certificate directly when receiving the service (the last digit of the certificate code).
You can postpone the agreed date and time of the consultation one day before the appointment.
If you made an appointment, but did not come and did not warn about the cancellation of the visit 24 hours in advance, the specialist reserves the right to refuse to provide services at a discount.
The time of being late for the consultation is not taken into account.
The duration of the consultation is 50 minutes.
Contacts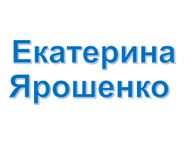 Phones:+38 (096) 381-77-20
Ekaterina Yaroshenko is a practicing psychologist, psychoanalyst, business coach. Author of lectures, seminars and trainings on practical psychology and psychoanalysis. Researcher in the field of the history of philosophy, psychoanalysis and practical psychology. Work experience as a private practical psychologist, psychoanalyst for over 5 years. The specialist is proficient in the method of psychoanalysis and various psychological techniques. This knowledge allows you to comfortably and effectively find a solution to various issues and life difficulties. Possible work with children and adolescents.

Questions with which you can contact a specialist:
Occupational burnout.
Digestive disorders due to stress.
Difficulties in communication in the professional sphere.
Depression, anxiety and panic states, fears and phobias, the state of obsessive thoughts and actions.
Post-traumatic stress disorder.
Difficulties in the family.
Addictions of various nature.
Neurosis, suicidal behavior.
Increased aggressiveness, difficulty adapting, communicating and establishing contacts.
Childhood neuroses, adolescent problems.
Questions
1 Feedback
Address: All Ukraine
За несколько часов я предупредила психолога что не смогу выйти на он Лайн связь (в парикмахерской задержали) просила перенести на пол часика, после ответа нет, попросила переназначить время. Но ответа так и не дождалась…Думала что психолог хотя бы предложит консультацию оф Лайн. Но нет.
29.11.21 10:16
Здравствуйте. Благодарим Вас за оставленный отзыв. Обратите внимание, что если вы записались на прием, но не пришли и не предупредили об отмене визита за 24 часа, специалист оставляет за собой право отказать в предоставлении услуг со скидкой. Вы можете согласовать с партнером перенос даты сеанса. Благодарим за обращение.
Добрый день! Может ли ребёнок проконсультироваться один (15 лет)?
25.05.21 09:43
Здравствуйте, Алина. Да, можно. Но желательно чтобы ребёнок первый раз пришел с родителями, родители могут подождать ребёнка. Благодарим за Ваш вопрос.
5 Feedback
Address: All Ukraine
Здравствуйте! А есть возможность онлайн -консультаций?
17.02.20 16:38
Здравствуйте, Марина. Да, онлайн -консультация возможна через удобный для Клиента мессенджер. Благодарим Вас за обращение.
From₴189
Deal is completed
sale-80%
Saving₴1 681
Bought 18