Sorry, but deal is over
Subscribe for notifications, so we can send you new offers from "Fashion shop".
You can also view other discounts and deals "Fashion shop"
Want to receive new offers by email from the "Fashion shop"?
Enter your email so you don't miss anything
Скидка -10% на весь ассортимент при покупке на сумму от 1000 грн!
Доставка по Украине
Fashion shop0
Deal description
Скидка -10% на весь ассортимент при покупке на сумму от 1000 грн!
Интернет-магазин «modnijmagazin» был создан в 2014 году, но опыт розничной торговли уже более 20 лет.
Цель «modnijmagazin» - сделать качественную обувь, сумки и аксессуары доступными по цене любому покупателю.
Каждый покупатель сможет найти в магазине обувь, сумку, кошелек, часы или бижутерию на свой вкус и кошелек.
Весь товар в наличии на складе, поэтому отправку делают максимально быстрой, в день оплаты или на следующий день.
Перед отправкой обязательно проверяем качество товара.
Более тысячи довольных клиентов являются постоянными покупателями «modnijmagazin».
How to use a certificate?
You can use the coupon from 19.07.2018 to 31.01.2019
The price includes payment for information services provided by Покупон on the basis of the Public Offer.
Чтобы получить скидку нажмите кнопку «Получить» и введите промокод:
«Акция 777» в комментарий или назовите его менеджеру при оформлении заказа на сайте.
Стоимость заказа с учетом скидки пересчитает менеджер при подтверждении заказа.
Refunds for Information Services are carried out exclusively on the grounds provided for in Art. 10 of the Law of Ukraine 'On Protection of Consumer Rights'. To refund the cost of the Information Service, the User provides Покупон with the Seller's confirmation (in any form) that the Seller refused to transfer the Goods to the User on Special Conditions.
Contacts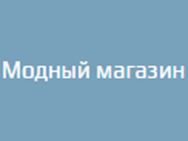 Phones:+38 (093) 566-70-22 (Viber)+38 (068) 447-94-81 (Viber)+38 (093) 566-70-22+38 (068) 447-94-81+38 (095) 461-78-77
The online store «Fashion Shop» offers you high-quality inexpensive goods from Ukrainian and Polish manufacturers. On the site you will find a large selection of stylish women's shoes for any season, bags and wallets, watches and jewelry, clothes and underwear.
The store has received official certification from the prom.ua platform and the appreciation of more than a thousand regular customers due to the high quality of service and low prices, which make the purchase of any product available to everyone.
Free
Deal is completed
discount-10%
savingNo limited
Received 24