Sorry, but deal is over
Subscribe for notifications, so we can send you new offers from "Video congratulations from Santa Claus".
You can also view other discounts and deals "Video congratulations from Santa Claus"
Want to receive new offers by email from the "Video congratulations from Santa Claus"?
Enter your email so you don't miss anything
Personalized Video Greetings, Letter and Coloring from Santa Claus
All Ukraine
Video congratulations from Santa Claus308 users reviews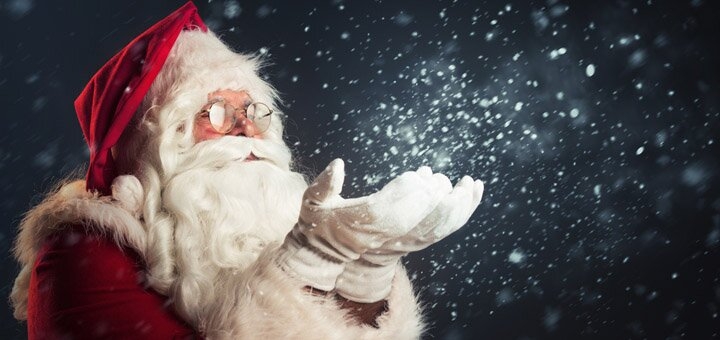 Deal description
With the certificate, you will receive a personalized video greeting of your choice and a letter from Santa Claus for 1, 2, 3 or a group of children with a discount.
Service description
Personalized video greetings will be a great surprise for your child, will help make the holiday bright and unforgettable. This is an amazing gift - a journey into a real fairy tale. Your baby will definitely be satisfied.
The congratulation uses high-quality three-dimensional graphics, professional video filming and author's music - a very exciting sight and a journey into a real fairy tale.
Santa Claus will address your child by name, show his wonderful world and personally wish him a Happy New Year. This is a high-quality, bright, animated congratulation from Santa Claus himself. The congratulation includes riddles, animated cartoons, the address of Santa Claus by the name of the child. A very bright and memorable movie is intended specifically for your child: songs, colorful fireworks and a cute bunny, everything as our dear kids love. With such adventures, the kid plunges into a new fairy-tale world, because Santa Claus himself conducts a dialogue with him and gives useful instructions for the whole next year.
A personal letter in a colorful envelope from Santa Claus with congratulations (you can choose in Russian or Ukrainian), where the grandfather will congratulate the obedient child (or several children) on the holiday, praise him and wish him a magical New Year, a cheerful mood and a real fairy tale.
What is included in the price of the certificate?
Video congratulations from Santa Claus (optional: «Magic Lessons», «Winter Fun», «Magic Ball», «Enchanted City», «Father Frost's Workshop»).
Personalized letter with envelope.
Tale «Turnip» (not named, with the name «Guys»).
Thematic coloring pages.
How to use a certificate?
You can use the certificate from 24.10.2021 to 28.02.2022
The price includes payment for information services provided by Покупон on the basis of the Public Offer.
IMPORTANT CONDITIONS
The service is not provided on holidays: 25.12, 31.12.2021, 01.01.2022.
Video greetings are in Russian.
To receive a letter in Ukrainian, it is necessary to indicate in the comments «letter in Ukrainian» when filling out the form.
For a group of children, Santa Claus will address «My dear grandchildren».
Before ordering a video greeting, check that the child's name is in the list of available names.
If the name is not in the list, then it can be replaced with the address «granddaughters» or «granddaughter».
ADDITIONAL TERMS
One client can personally use an unlimited number of certificates.
Discounts on certificates are not cumulative with other promotional offers.
To receive a discount, you must fill in the data in the electronic form «Order Form» and indicate a unique certificate code.
You can order one video greeting at once with two names in one video.
One or two children are addressed in one video greeting.
Santa Claus will address the child by name 3 times.
A video file of a paid personal greeting will be sent by e-mail within 1-3 days.
You will receive a link to download the video file to the e-mail specified in the form. The download link is valid for 14 days. After downloading a video file, you can watch it at any time.
Contacts Phones:+38 (066) 395-31-93
Video congratulations from Santa Claus is a small miracle for your child. Personalized congratulations from Santa Claus himself will give your child unforgettable emotions and New Year's fabulous mood.
All video greetings are made using high-quality computer graphics and real filming. Such a video will take you into a fairy tale and make you believe in miracles.
Questions
Address: All Ukraine
А где взять ссылку для заполнения?
04.01.22 11:30
Доброго дня! На сторінці акції або у Вашому сертифікаті в розділі "Як використовувати сертифікат?", підрозділ "ДОДАТКОВІ УМОВИ" в третьому пункті вказане посилання на форму для замовлення. Дякуємо за звернення.
Address: All Ukraine
Добрый день ,я немного не поняла покупаешь сертификат за 35 гр оформляет заказ и сколько после нужно оплачивать?
01.01.22 14:25
Здравствуйте, Екатерина. Доплата не предусмотрена, с сертификатом за 35 грн. Вы получаете полностью оплаченную услугу. Благодарим Вас за обращение.
Address: All Ukraine
Скажите пожалуйста, а через сколько придёт видео?
31.12.21 09:10
Здравствуйте, Алёна . Видеофайл оплаченного именного поздравления высылается на e-mail в течение 1-3 дней. Благодарим за вопрос.
1 Photo
Address: All Ukraine
Купила поздравление. Звук не совпадает с видео. Покупать или нет решать Вам
22.12.21 09:20
Здравствуйте, Светлана. Спасибо Вам за обратную связь. Мы обязательно примем во внимание Ваши замечания и проинформируем руководство. В дальнейшем будем стараться только приятно радовать и удивлять.
4 Photo
Address: All Ukraine
Самое глупое предложение за 35 грн. Думала там Дед Мороз будет обращаешься по имени. И будет что-то рассказывать. Учить. Персонально. А там обычное видео с интернета. Какие-то раскраски, которые нужно ещё распечатать! Глупые обычные заготовки, которые я могу и сама сделать. Этого тут не написано. А наоборот, описали так красиво! Не покупайте этот бред! Снимите сами видео, и то лучше будет!




21.12.21 12:35
Здравствуйте, Юлия. Спасибо Вам за отзыв. Сожалеем, что Вы остались недовольны. Будем стараться в дальнейшем только радовать Вас интересными акциями.
From₴35
Deal is completed
sale-75%
Saving₴301
Bought 3437