Studio background photo session for expectant mothers «Little Happiness from Svetlana Tsupikova
All Kiev
Svetlana Tsupikova
134 users reviews
Deal description
With the certificate you get a studio background photo session for expectant mothers «Little Happiness» from Svetlana Tsupikova at a discount.
Service description
Every expectant mother dreams of a beautiful photo shoot, many pregnant women want them to have joint shots with their beloved husband - the baby's future dad. A pregnant woman is the most beautiful woman on earth, she seems to glow from within, radiating warmth and tenderness. In the shots, the expectant mother alone, or together with her husband, can hug each other, or hug the tummy, this relaxes the pregnant woman and allows you to make «lively, gentle» shots. In this case, children's things, toys or flowers can be very helpful. And the shooting process itself will give the expectant mother a lot of positive emotions. The «Little Happiness» photo session is designed to create extraordinary, wonderful shots that will serve as a pleasant, special memory for many years to come.
Studio props:
Various background decorations - 6 pieces (black, white, green, blue, red, yellow background).
2 bar stools.
Armchair chair.
Toys, signs.
Sofa.
Swing hammock.
Professional photo light - professional flash.
What is included in the price of the certificate?
Services of a professional photographer.
Participation in the shooting - 1-2 people.
Duration of shooting - up to 60 minutes.
All material in electronic form.
10 photos in color correction.
Change of 1-5 images.
Professional assistance in posing.
Makeup and hairstyle (optional).
Outfit (optional).
Additionally paid
NECESSARILY
Rent of the studio «Svetik style studio» 1 hour - 500 UAH.
How to use a certificate?
You can use the certificate from 04.09.2021 to 31.03.2022
The price includes payment for information services provided by Покупон on the basis of the Public Offer.
Please note that depending on the quarantine measures in the region, the partner may ask a visitor to provide a complete vaccination course COVID certificate, a digital certificate about negative coronavirus test result taken no later than 72 hours before the visit, or about recovery for the last 6 months (ask the partner about possible restrictions before purchasing a certificate). The requirements are valid for persons over 18 years old.
IMPORTANT CONDITIONS
One user can personally use only one certificate.
Before purchasing a certificate, be sure to check the availability of seats for the desired date and time.
ADDITIONAL TERMS
Discounts on certificates are not cumulative with other promotional offers.
To receive a discount, you need to submit a certificate electronically.
Give the last digit of the certificate (activation code) only when you receive the service. After activation, the service is considered to be provided, and the certificate cannot be returned.
If you signed up for a photo session, but did not come at the specified time and did not warn you about changing your plans 3 days in advance, or are more than 10 minutes late, the photographer reserves the right to refuse to provide services with a discount and the certificate is considered used, or shooting decreases in proportion to the time of delay.
The terms for receiving the finished material (source code) are 3-7 days.
Photo processing time - up to 1 month (the client chooses the photo for processing himself).
Calls for recording for a photo session are accepted from 12:00 to 22:00.
Contacts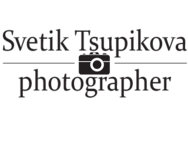 Phones:
+38 (073) 332-56-44
Svetlana Tsupikova is a professional photographer with an individual and creative approach to each client, long-term practice, European level of services and affordable prices. Svetlana's experience in the modeling business has a positive effect on her personal photography. The photographer will suggest the correct poses, a favorable angle that emphasizes the dignity, etc.
Svetlana organizes both field and studio photo sessions in Kiev and Brovary and offers many directions - individual, family, portrait, children's, wedding photography, Fashion & Beauty, Love Story shooting, at locations (photo walk), shooting for pregnant women, portfolios, linen, etc.
You can use the certificate:
04.09.2021 - 31.03.2022
sale-76%
Saving₴611
Bought 8
Buy